Out today, Ioan Delice's (pronounced Yo-On) debut album is the rapper's musical celebration of individualism and an artist's existential crisis. The project which features the artist's original production pays homage to one of nature's most fascinating enigmas, the 52-hertz whale. Often referred to as the "world's loneliest whale," its call vibrates at the very unusual frequency of 52Hz. This pitch is much higher than its counterparts, and despite sharing the same migration patterns as other whale species, its distinct song goes unanswered and the whale lives in complete solitude.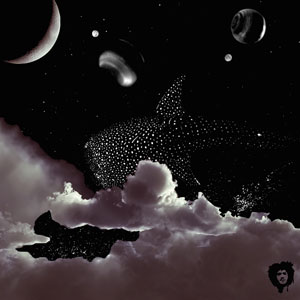 Through this metaphor, the rapper reveals a deep well of musicianship and taps into hip-hop's ability to explore philosophical themes. As a self-proclaimed Thelonious Whale, Ioan describes humanity's own conflict with uniqueness and emotional fortitude as well as the challenges of being a modern day artist in a saturated industry.
"Ultimately I'm creating my own hip hop vocabulary." Ioan explains. "My music blends different genres and different styles but is fueled by a common human factor. I believe we all have the tendency of setting out to leave our individual mark in this world, of being our best and truest selves, and of sharing Love in its highest form. Some of us are less afraid of putting ourselves out there time and again, like the 52 HERTZ whale."
MORE ABOUT: Burgeoning rapper/producer Ioan Delice has been increasingly expanding New York's underground rap scene and his horizons. Born January 13, 1994, the Brooklyn native of French/Haitian descent is inspired by an eclectic range of artists – from Hip Hop legend Big L, to France's most popular and enduring singer Charles Aznavour. As an ambassador to his generation, Ioan also pays homage to the cartoons that formed his childhood and taps the creative influence of reputable composer Jim Lang and Japanese Hip Hop producer Nujabes – who have written scores for Hey! Arnold and Samurai Champloo respectively.
Ioan's artistry also draws its inspiration from having grown up in Kings County, widely recognized as the rap capital of the world, at a time when its gritty reputation held true. The musician's explorations of romantic, spiritual, interpersonal, and societal themes, mixed with his playful and unorthodox style of rapping, breaks hip-hop boundaries with new artistic expression. Through his soulful meandering and multi-cultural influence, Ioan fearlessly delves into the creative process of his talent and is continuously expanding his audience by delivering songs that escape the fleet of trends.