Mokalicious is the actual resident DJ at the Sanctuary Hotel in NY. He started as a co-promoter of parties for the VIP club of Tours and has always been in the music and party industry since he was 15. When the VIP began the Wake Up, Mokalicious learned how to be a Bartender and then Manager after a year, where finally he learned how to spin music.
Mokalicious is also co-founder of The Feather's crew (a DJ association of Tours) who have rocked the city for 2 years; after a successful first tour of NY in 2010Mokalicious took control of the new French-Thai restaurant in Tours as a manager, dj and artistic director for a year. After a month they acclaimed the restaurant as the place to be in the city. Here Mokalicious gives us a little insight into his Dj'ing world.
How long have you been in the music business and how did you get started in the first place?
Mokalicious: well I starting working in clubs and bars in 2005, so I will celebrate my 10 year anniversary next October to be precise. I started to work as a runner twice a week in a club where I was always hanging out. They offered me to cover a shift for a bartender, and then I climbed every workstation until finally the manager who was the dj at this time asked me to cover for him on a Saturday night. That was the beginning of my dj life.
Who were your first musical influences that you can remember?
Mokalicious: I always loved music; my dad was a great fan of French oldies, jazz, soul, bossa nova, crooners and smooth music. My mom was more uptempo, (she's from Ghana), more tribal, latin, world music. They opened my mind on any genre of music, and what I play now is the sum of my parents taste. French artists like Aznavour, Henri Salvador, Edith Piaf, Jacques Brel and international artists like Sinatra, Al Green, James Brown, Stevie Wonder, Etta James, Patti Labelle….all the Motown artists….
Which artists are you currently listening to? And is there anyone of these that you'd like to collaborate with?
Mokalicious: Wow, I would say all of the artists above but a third of them already passed away unfortunately. Marc Cerrone, Pharell Williams, John Legend…. Actually my "chouchou" are Kartell who is a friend of mine, and FKJ, two French artists who are killing me on every track; they are all I like about producing and performing. I like Kero one, Angel Kronika and the whole Soulection crew too.
Have you suffered any 'resistance' or skepticism from within the industry and fellow Dj's, and if so how do you handle that?
Mokalicious: Of course but it starting to decrease. At the beginning some dj's were asking me what kind of music I was playing (10 years ago) and I was saying open format to what they were answering "so if you play any genre you don't really dj"…the kind of dj's only into deep- house or techno, with no musical knowledge and taste lol….I could have argued with them, but they are so close-minded. Now some call me son or young sometimes, until they know my resume, what I'm doing and what I am djing…then they nod me or tell me I'm good. Enough for me.
Who is your favorite DJ or Music producer?
Mokalicious: My fav dj is Little Louie Vega, I just saw him at the WMC and chatted with him for a minute, that was priceless. This guy and Kenny Dope, The MAW (the Masters At Work), musically taught me a lot when I starting to dj and made me discover the House music.
Then I would say Jazzy Jeff of course, still the boss. I love Dj Sneak too, Dj Pone, and a lot of not well known djs you never heard about lol, like dj ManyHats… and for the producer I would say Pharell, Timbaland (killing everything with the show Empire), DJ Mustard, Dj Premier…
Where can fans find you performing currently?
Mokalicious: You can see me on my residency at the Haven rooftop at the Sanctuary hotel Tuesday, Thursday, Friday and Saturday.
If you had the choice to perform in any location or club in the world, where would that location be for you?
Mokalicious: Next year for the WMC at the Deauville resort with LLVega for example or nice places in Miami, Kazantip festival, Burning man, or simply in at The Ministry of Sound. LOL
Which ingredient do you think makes you special and unique as a Dj and entertainer?
Mokalicious: Before being a dj I was a meloman, musician, then customer, bartender, General Manager of a night club and a restaurant…Here are my strengths, I'm not only playing music as a dj but also as all those different people inside me. I play music for the crowd, the staff of the place I work in, myself and the love of music.
If you were forced to choose only one, which emotion, more than any other drives you to be a part of this tough business. Is it joy, desire, passion or pride etc. and why?
Mokalicious: I would definitively say passion and fun, lol you see I can't have a simple answer. Ok ok, so I would say passion, I really love music and try to spread my passion for it.
Which aspect of being a DJ and the performing processes excites you most and which aspects discourage you most?
Mokalicious: The best part is to challenge yourself, improve your skills, open your ears to different genres. I love to play freestyle, no playlist, just feeling the crowd, which means that you are supposed to have a great knowledge and confidence on you tracks and skills.
The problem in this business now is that owners of clubs mixed up djs and promoters. We are djs and good djs are not promoters, everybody's got his own job and thing to do. Owners own, djs dj, bartenders make drinks, promoters promote. It is annoying to not be able to perform because you don't have a huge network, especially when you do the job 10 times better than they do.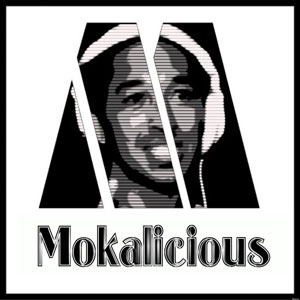 The best piece of advice in this business you actually followed so far, and one you didn't follow, but now know for sure that you should have?
Mokalicious: Actually my dad always told me, you can party as much as you want and go out the day before you work, but don't be late and always be on point. Work for any job I agree, but I take it really seriously. The first time I deejayed and some of my friends told me: "what are you doing here, aren't you supposed to make drinks?? Is it a Joke" Look at the joke now. J)
Do you consider Internet and all the social media websites, important in enhancing your career,
Mokalicious: Yes and no, even if social media is a great way to promote yourself, what made me grow was word of mouth, and reputation. People who hire me know I'm solid, professional, good, and cool.
How do you market and manage your Deejaying career? Do you have a management team or do you do everything by yourself?
Mokalicious: I do everything by myself, I love to control any aspect of my career, I like doing my marketing, booking, promotion…all aspects are really interesting to know and learn.
What is the ONE thing you are NOT willing to do EVER, in your quest to achieve a successful career?
Mokalicious: play Gangnam style!
OFFICIAL LINKS: HOMEPAGE – SOUNDCLOUD – FACEBOOK – TWITTER – YOUTUBE