The Stanford Encyclopedia of Philosophy explains that many think of patriotism as a natural and appropriate expression of attachment to the country in which we were born and raised and of gratitude for the benefits of life on its soil, among its people, and under its laws. Accordingly, patriotism can be defined as love of one's country, identification with it, and special concern for its well-being and that of compatriots. This however, is only a definition. The real embodiment of that statement is manifested through people like Country rocker, CEO, and all round patriot Andy Ross, who has just launched his new single "All American Heart".
"The goal was to write a song for the hard working men and women of this country that would pull on the heartstrings of America," says Andy Ross. "I think we nailed it. I'm hoping All American Heart will be the new anthem for the heartbeat of America." What Ross wound up with is destined to make Americans delirious with pride as they blasted it through their sound systems.
"Here's to the corn field farmer. Oil rig rough necks too. Nurses on the night shift. Drummer on a drum kit. Ain't it red white and blue. Doing their thing. Playing their part. Living the dream. With an all American Heart," exclaims Andy Ross in the opening lines of "All American Heart", as he unfolds the uplifting and heartfelt narrative.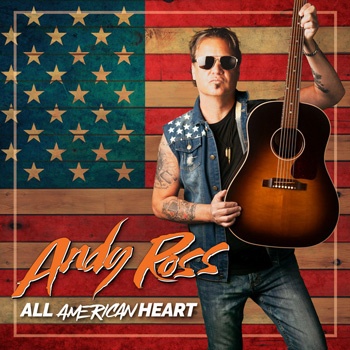 The twang and the ring of the glorious guitars and fiddles propel the grinding momentum of the song's two minutes and 49 seconds of fist-pumping, empowering cheer. Andy Ross not only knows how to construct an ear-catching roots rock anthem, but he also understands how to keep it short and sweet.  For all the lyrical swagger and vocal grit, Ross remains a writer of sturdy melodies and unforgettable hooks. Hence, you will be singing along in no time.
"All American Heart" consists of a cohesively designed and beautifully articulated performance and arrangement, from an artist whose tough swagger belies a sensitive vision. Andy Ross pours himself into this music with an undiminishing passion. Themes of self-reliance and human connection, a commitment to making the country a better place, while defending its freedom, and the sense that the American dream is to be lived now, runs throughout this track.
Much, if not all of what he sings, Andy Ross actually lives. Outside of running his publicly traded company, American Rebel, Ross stays active by performing at NASCAR Speedway events, biker rallies, and many different festivals including Weekend For Our Heroes at Tupelo, Wild & Wonderful Country Fest, Armed Forces Day Festival, NASCAR's Freedom festival, and many more.  A strong advocate of the second amendment, and a car enthusiast, Ross also put together a 2nd amendment muscle car with Danny 'The Count' Koker on History Channel's Counting Cars.
By staying focused on his aspirations, and cutting to the core of the issues that are scrutinized by his awareness, Andy Ross has been able to focus on telling powerful stories and conveying the truths that too often are overlooked by many of his peers. By listening to "All American Heart", you'll get acquainted with a committed and passionate rock and roller. One of the very best. This is the sound of an artist, who is unshackled from the usual corporate chains.
"All American Heart" is available now on all streaming platforms. Listen here: https://distrokid.com/hyperfollow/andyross/all-american-heart
Follow Andy Ross for updates on his music, American Rebel, and more adventures @andyrossrebel on social media and www.andyross.com.
www.facebook.com/andyrossrebel
www.instagram.com/andyrossrebel
www.twitter.com/andyrossrebel
www.tiktok.com/@andyrossrebel
www.gettr.com/user/andyrossrebel
www.mewe.com/i/andyrossrebel
www.truthsocial.com/@andyrossrebel