Blak Pope is an upcoming Hip hop /pop artist from Seattle, WA. Born in Cameroon West Africa, this new music messenger has a very distinct style that fuses sounds from around the world. Some have called him the "flavor master" because of the diversity in his music. In mid-2016 Blak Pope released a video for his single "My Own Life " which quickly got him some local and national attention with a catchy hook "Why You Mad Bro"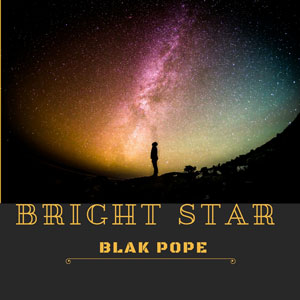 He has just released his new song "Bright Star" a song that has an uplifting message and will feature in his to be release album "WORK". An album full of variety, I'm talking about conscious, club, feel good, love songs and more. Make no mistake; this rising star cannot be boxed.
If you have ever caught "The Pope" at one of his shows, then you may have gotten more than your ticket was worth. He is probably the best on stage performer, energetic and the Oh Yes! he knows how to interact with his audience and rock the crowd.
---
MORE ABOUT BLAK POPE:
Blak Pope is more than just your typical hip-hop artist; he is a master of party hip-hop with a talent for producing club songs that bump. He is also possibly the best on stage performer in the industry.
Although he grew up in a small coastal town in Cameroon, West Africa, he loved listening to American freestyle rappers like 2pac and NAS who's music motivated him to pursue a career in hip-hop. Also, as a world traveler, this emerging hip-hop philosopher has diverse music sounds that are expressed in some of his unique beats.
Now residing in Seattle, WA, he is reppin the 206 deep in body and soul and like we say in hip-hop: he is ''buzzin'' and creating noise at home. It didn't all come at once for this Blak Pope. He has paid his dues, put in time behind the soundboard, and mixed in clubs and studios to craft upbeat hip-hop music that undeniably satisfies nightclub devotees and pop music fans alike.
Blak Pope is about to release his first full-length album titled "Work" New fans will be thrilled to hear some unexpected collaborations with well- known Seattle artists. No doubt songs from the new CD may be classified under the new age of hip-hop, but make no mistake that Blak Pope is more of a musician than an artist and can navigate from verses to hooks all by himself.
OFFICIAL LINKS: ITUNES – REVERBNATION – FACEBOOK – YOUTUBE – SOUNDCLOUD