Every aspect of Bless McFly's music comes together perfectly. The beats are engaging, his energy is high, his melodically inclined flow is sharp and best of all his lyricism is on point. When Bless raps, there is never a dull moment. Either he is giving you a passionate, fast-paced combination of bars, or he is calmly reflecting on his struggles, journeys, or joys throughout life. Either way, you will enjoy the relatable and well-constructed verses. Every song is a well-illustrated description of the topic at hand. As a whole, his entire catalog is a consistently satisfying listen from start to finish.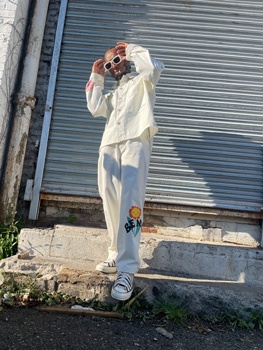 Instead of generically saying he is the best, Bless McFly uses poetic rhythm, to go along with his rhyming and gift for mesmeric melodies. He is actually showing why he is one of the best new school rappers around, rather than making an empty claim.
When you hear bars from Bless McFly, you'll actually believe him. Nothing is more satisfying than when a rapper can back up the hype with skill. That's what the Newark, NJ based rapper achieves on the single "No Apologies".
Lifted off the "GOOD AND EVIL" EP, the single "No Apologies" was produced and originally released in 2019. Sadly, the producer DJ Calzz passed away at the age 20, before the release of the record.
Bless McFly recently decided to drop a video of the song, directed by well-known director Nimi Hendrix and Bless himself, due the heavy traction his brand, the GOOD AND EVIL had been gaining, creating the perfect scenario for more creative input.
Over the last 3 years, Bless McFly has been building the GOOD AND EVIL brand, which reflects his music and style. The merch produced, has grown from just t-shirts and hoodies that adorn the name, to a full-blown fashion line that has sold all across the country through a dedicated website as well clothing stores and boutiques.
The way Bless McFly can seamlessly switch to triumphant sentiments from what would seem like troubling thoughts for most, is impressive. He shows all the aspects of the human experience in just over 3 minutes. Above all, he flaunts his bold and unapologetic vision of self-empowerment in a flawed and malicious world. All the verses ring with emotion, while the beat glows with atmospheric vibe.
"Dippin in the sauce that don't bother me. Money on my mind that's all I see. All around they world they follow me. Ima do me, no apologies," exclaims Bless McFly as he unravels his mindset. "No Apologies" is an emphatic response to any doubters. This heartfelt record is one of the most grown up rap releases of the year. Draped in a melancholic sonic aura, the rapper weaves a hypnotic flow around a dark and gently skittering beat.
"No Apologies" presents a riveting piece of soul-searching music and a set of powerful personal messages and anecdotes. This raw honesty makes you feel like you have a personal stake in Bless McFly's story; a rare skill for a rapper to possess, but one that suggests we are dealing with an artist that will have real longevity.
If you've never heard of Bless McFly before, "No Apologies" will leave you musing on what you heard, and very interested in hearing more. The best introductions usually do.
OFFICIAL LINKS:
@Blessmcfly on Instagram.
www.blessmcfly.com for all music, videos, merch, and other content.