Blue Flame started his musical journey on the drums at the age of five. Some time with the saxophone and performing live at the age of eight, laid the foundation for a career that has included working with some of the best in his game, including Busta Rhymes, 8Ball & MJG, 112, Nappy Roots, Rico Love and Bun B, Too $hort, Pharell, Three 6 Mafia and Young Buck.
Along the way, Blue Flame has also built a reputation for producing hustler's anthems, club bangers and fast land street music. His spins have been played on SiriusXM, DatPiff, Jango, Coast 2 Coast Mixtapes and SoundCloud.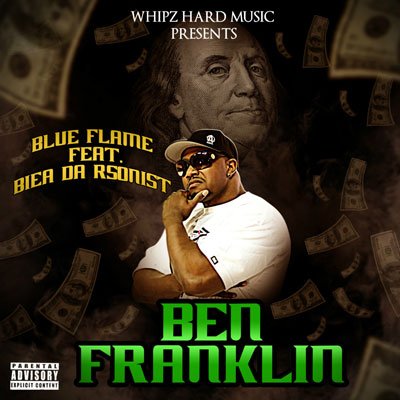 Now Blue Flame is ready to set the market alight with his latest upcoming release, "Ben Franklin", of which he exudes an unparalleled confidence: "I have a unique ear in regard to music. Formally being a musical engineer, I hear what most people miss. I have the ear for hit records. I know what needs to be tweaked and adjusted to make a song go platinum. My new sound is like nothing you've heard from Blue Flame before," he confirmed.
The obvious elephant in the room is the beat; Blue Flame has some of the best production tricks in his entire catalog stuffed on this one track. This man knows how to choose beats and knows how to get smooth over them. "Ben Franklin" is as much lyrically on point as the beat is, as Blue Flame gets smooth through every bar, where his gravelly voice does a lot to set the tone.
Besides being a great rapper, Blue Flame's charisma and presentation often makes for an exciting song as he continues to prove he is serious about the rap game. The production on this is perfect, while the mixing and mastering make sure the song has a certain 'pop' that will capture listeners.
There really aren't many rap artists left that can deliver consistent head bangers like Blue Flame does. It feels good to see a rapper actually care about how his music turns out overall, besides just trying to create a radio hit made up of lyrical garbage. The sheer power and energy of his delivery is as captivating as the lyrics. After listening to "Ben Franklin" there can be no doubt that Blue Flame is consistent at what he does.
The team behind the "Ben Franklin" single and Blue Flame's upcoming album "Fast Life – Fast Lane," features what Blue Flame himself calls the "the dopest producers and engineers in the industry." Expect a mid-June release for "Fast Life – Fast Lane."
FOLLOW BLUE FLAME:
Twitter- https://twitter.com/blueflameky
Instagram- https://instagram.com/blueflameky/
Facebook – https://www.facebook.com/blueflameky
Soundcloud Artist page- https://soundcloud.com/blueflameky
Website – www.blueflameky.com