We all have a story, check out Brooklyn Native, Phoenixx's Single "My Story", available on iTunes, Spotify, Google Play and Youtube.
With a persuasive ease and command of voice singer/songwriter, Phyllis "Phoenixx" Smith, introduces you to her sound which she coins as "Fusion Music". This universal sound delivers her moods through music. As a master of mixing the male and female vocal dynamic, she presents vocal flexibility in her tones and sultry prowess, while conveying the message of her music, passion and artistry. "I want my music to be a form of therapy, conceptual and relatable. I want to put my listeners in a feeling, in a moment. I need it to mean something," Phoenixx explained. Perfecting the vocal quality of the record in order to sell the concept and the idea are key aspects in the creation of her music.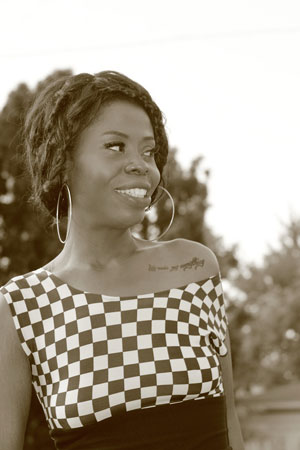 Born and raised in Brooklyn, NY into a family of artists, Phoenixx discovered her love of music at the age of 3, through her uncle who exposed her to classical and gospel music. Her mother, a lover of literature, her father a musician/singer/songwriter, and grandmother, a poet, helped formulate her expansive musical knowledge. With a love of poetry, Phoennix began to work on her writing. "It was a part of my DNA," she says.
Knowing the origin of what she was doing helped develop her deep rooted respect for music. Growing up she attended the Public School Repertory Company in Manhattan where she received her musical education and met key influencers in her career like Wardell Malloy (BMI) who discovered her talents.
At the age of 15, Phoenixx began a mentorship with R&B/Soul singer/songwriter, Edwin "Lil Eddie" Serrano, (currently a vocal coach for the X Factor US and has written for artists including Usher, Janet Jackson, and Nellie Furtado). She worked alongside prominent producer Steff Nasty (also known as Steff Reed) and collaborated with up and coming songwriters at Sean Combs' studio, "Daddy's House". Serrano bridged the gap of singer and songwriter by helping Phoenixx merge her poetry with music. This led her to work in several major studios throughout New York City.
She also participated in "The Hip Hop Project," which was created by Bruce Willis and Queen Latifiah to empower the voices of the youth; the program was the start of Phoenixx's education as a vocal producer/arranger. She recorded some of her first official records there and was instilled with the philosophy that music resonates with different people in different ways. "People gravitate to people who are themselves and that's what I feel my music is all about. I do it because it's a natural ability and I want to give it 100%", she says.
As a songwriter, Phoenixx has worked with Brandon Hines, producers Chris N Teeb, the Arkitects, JHype, Misto and Pizzi among others. While honing her vocal skills she sang background for Yummy Bingham, Charli Red and Shalik Rivers at 106 & Park, SOB's, BB Kings and The Bitter End.
She credits artists Vanessa Williams, Brandy and Faith for influencing her sound. In 2014 she received a nomination for a Soul Train Music Award for her work with Shaliek Rivers as well a nomination for Out Music Award for her work with Shorty Roc.
Currently focusing on a new 4 song project, Phoennix is looking to change people's perspectives on music. She creates her music from a vast array of influences in gospel, r&b, pop, and alternative genres. Inspired by these different elements, Phoenixx continually explores her sound as an artist and producer. "I have a very weird and diverse background, like a big gumbo of sounds and elements and it influences the songs." Passionate about execution, cadence and vocal production, her point is to make a great record. Her music is crafted to keep people interested and compelled.
Finding her way as an artist is still a journey. Phoenixx attends master classes to perfect her skills and continues to study ways to tell her stories and evoke feelings through her music. With a growing fan base she looks forward to bringing her universal sound to a larger audience.
OFFICIAL LINKS: SOUNDCLOUD – BANDCAMP – YOUTUBE – INSTAGRAM – TWITTER