Cut is back with another track; "The Hood Gave Me" absolutely delivers what I was hoping for. The beat is amazing and there so many different rhythmic elements to it, giving the track an almost cinematic feel. And all of this only compliments his raw, vivid, picture-painting lyrics. He takes you on his journey, from the bottom to the top, with all the highs and lows. Cut has never been better.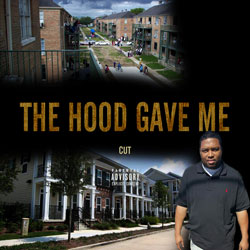 "The Hood Gave Me" is a nostalgic hip-hop record with a pinch of current flavor to appease new listeners and satisfy longtime fans. 50 Cut kicks heartfelt real rap narratives of life in the hood. The track is urgent, brutally honest and somewhere between a perpetual middle finger and a nostalgic look at the hood.
I think Cut really nailed it on this one. It's actually refreshing to be able to understand what someone is saying in rap again. Solid production and real content is what rap needs and Cut delivered with this one.
If you come to this track looking to get comfortable and relaxed, get out now. "The Hood Gave Me" is pumping energy, hard, raw and real. This song clearly points out how in life you often want to do the right thing but due to situations you have to do things to survive. Good or bad, these things form part of your legacy and the memories which will keep coming back to you.
Cut is an artist from New Orleans who grew up in the St. Bernard Housing Project suffering from poverty, drugs and violence. In 2007 Cut released his debut album, "Mother Nature", with OneThang, his fellow label mate at the time. Cut who has worked with artists such Snoop Dogg , Lil Boosie , Teflon , and many more, has released various mixtapes since his debut release.
OFFICIAL LINKS: REVERBNATION – TWITTER – FACEBOOK – YOUTUBE – ITUNES