DaBeautifulKey is an actress, published model, and singer/songwriter. She has written plays, songs and poems for over ten years. DaBeautifulKey has acted in several plays she directed, as well as written many TV sitcoms and movie plots.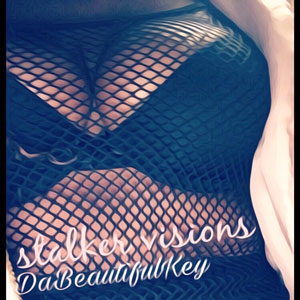 She has starred in music videos, movies, and commercials; Love and Hip Hop Hollywood Season 2, and starred as The Preacher's Wife in Young Jeezy's "Church in these Streets" ,and Fetty Wap's "My Way music video, as well as with Johnny Dang, Paul Wall, Kirko Bangz, Moneybagg Yo and more.
As an artist, DaBeautifulKey has deep meaning behind her music besides the way she dresses up and makes it sexy, there is always a story behind every song. And the energy will always be powerful!
Fun fact: The crazy writing process was one of those moments where her producer, Chris Jordan, barely had 25 seconds of the track and she wrote the song in less than ten minutes. He extended the beat to fit all her lyrics and they recorded within twenty minutes that night.
The track on radio rotation, 'Stalker Visions', is about you guessed it, a stalker! "You know when you've had someone you just didn't want to deal with anymore and they just won't go away?" explained DaBeautifulKey. "Yeah that's inspiration from an experience I'm sure everyone has witnessed!"
OFFICIAL LINKS: YOUTUBE – INSTAGRAM – FACEBOOK – TWITTER – SOUNDCLOUD – ITUNES