Tobias Wollborn aka Disscut is a techno DJ and Producer, hailing from Göttingen, Germany. A self-taught musician who plays the drums, piano, cajon and bass guitar, he started his journey as a techno DJ and Producer in 2001 by playing with vinyls. Disscut also owns and runs his own label 'Vinyllover Recordings' where he helps develop new talent and grow the musicians in his community. Currently, Disscut's music can be found on platforms such as iTunes, Beatport and Traxsource. I recently picked up Disscut's latest release, the 12 track "Imaginary Journey" album, with a little hesitation, having heard that the mix was basically just straight, no-frills techno.
That is true. Other mixes have obvious peaks and valleys, for instance, while this has harder drumbeats for the peaks and more subtle bass for the valleys. While other mixes have lots of vocals and warm synth tones, here we have drums and bass and a few instruments kept to a minimum.
Don't be fooled though because there are some beautiful textures and melodies too. It's just that they're not thrown around with wild abandon, but sparsely and intelligently used by Disscut. This is what you would call, in butchery terms, as 'good lean meat with no fat!'
In other words, this is not your flashy Top 40 dance mix – it's strictly for the brave. But, if you are one of the brave, check this out now. It's very intense, but also very danceable, and the constantly shifting rhythms and programming keep you from getting bored.
Oddly enough, if you're into techno, the subtle changes in drum patterns and stabbing synth lines is more interesting than a lot of more mainstream stuff with many more elements to the tracks. This mix is a triumph of minimal techno. If you're looking for something hard, intense, and raw, add this to the shopping list now.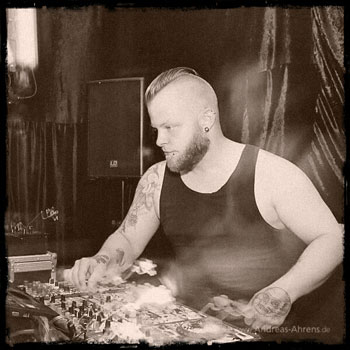 Disscut is just so good at subtle layering and mixing that you probably won't notice how he does it. Make no mistake this is straight-up techno at its absolute best. Disscut is a madman behind the decks. He has an almost superhuman control of rhythm that goes beyond simple mixing. Checkout tracks like "Recall" or "Dreadgirl" for proof of his rhythmic prowess.
This album is a trip from the beginning to the end. Like the master of minimal techno he is, Disscut starts off with an almost introductory lesson in beats on "My Cave" and schools the uninitiated as he slowly gives you a taste of what's to come.
Unlike most techno albums that peak, and then fall flatter than American beer, Disscut keeps going and going, laying down track after track, with surgeon-like skills, and by the time you come to "Antrax" thumping along hard to the beat. In fact this is the album for anyone looking to experiment and move away from the techno mainstream, and yet is unwilling to give up their precious four-to-the-floor thump.
Listening to Disscut, the mood is unpredictable and captivating, shifting from varied auras such as "Best Buddy" or "Sonar".  Minimal and masterfully layered if one listens close enough. The shift is seamlessly thoughtful reflecting the skill of a mastermind relentlessly trying to output everything including himself. A great endeavor indeed. Disscut is a top notch Producer with a sonic vision second to none.
OFFICIAL LINKS: LABEL – BEATPORT – TRAXSOURCE – DJTUNES