Originally hailing from Greece, Elina Laivera who relocated to Germany in 2014, now brings fans her debut solo album, "Alchemy". The singer-songwriter who has been working professionally for the past 15 years, started studying music and playing piano since the age of seven. She has also studied classical and modern singing, including spells with mentors such as Jeff Ramsey (Diana Ross, Whitney Houston, Celine Dion), and Adriana Balic (Pink), among others. Elina is truly amazing. I heard a bit about her through her various appearances in various groups in the past years, but it wasn't until know that she really blew me away, and I truly realized the power of her poetic soul. Her album is like listening to the best in soul, R&B and pop at the same time. It's a true musical treasure.
Every lyric on this album sounds as if it was written with the care of a poem, and Elina Laivera's voice is truly mesmerizing. She truly uses her storytelling skills in the creation of her song lyrics. People may try to compare her to other, more popular singers, but Elina truly has her own style and flavor.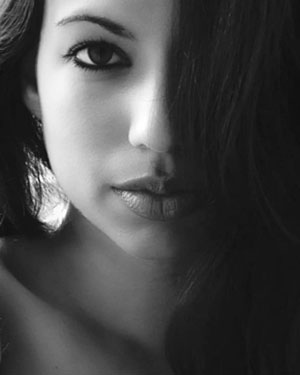 Her subtly impacting intro to the album, "Head Above Water" is really impressive, and simply states who she is: an emotionally engaged songstress. She has found a new powerful form of expression for her music with this album. You will truly cherish every song on "Alchemy".
Listening to this recording is like watching a movie, it has that engrossing vibe and atmosphere. You can immerse yourself in the music and just relax and let go while being enlightened to what she is expressing through her poetic thought. "Alchemy" details Elina's journey through an afflicting break up.
Here she takes listeners through the downturns of heartbreak and soul-searching, to inspiriting reclamation and self-empowerment. It really doesn't matter to me if she hits radio air waves or not, I'll play this recording until it burns a hole in my speaker system. The underground scene is where the real artists are, and the moment Elina launches her vocal soaring tones in the title track, "Alchemy", you'll be hooked.
Moving forward things only get better:  the nuanced sway of "You Lost Me", the sweeping ethereal peaks of "I Didn't Die", and the resonant guitar rhythm of "Exit Theme" where Elina flexes her vocal cords with powerhouse exuberance, are some of the highlights of the album.
The tropical backdrop of "Over Your Head", the slow burn drama of "Angry Letters", the gorgeous radio-ready sounds of "Hater", and the bare-souled interpretation on the piano-dominated "Haunted", are in a class of their own. Just when you thought popular music was doomed to mediocrity, here comes Elina Laivera with a fresh, honest and open sound.
She is first and foremost a singer, and most definitely one of the brightest new talents to emerge in the last few years. Secondly, she finds words for what most people, especially women, struggle to say in a lifetime. Likewise, Elina's command of expression allows one to truly feel her emotion through her performances.
"Alchemy" is something you will listen to years from now. If you love a true musical and vocal talent, then you'll absolutely adore Elina Laivera. You can have the beauty of music, the art of singing, and melodrama of life, showcased in 9 captivating songs, within the comfort of your home or anywhere else, you care to listen, with this amazing album.
OFFICIAL LINKS: WEBSITE – YOUTUBE – INSTAGRAM – FACEBOOK – APPLE MUSIC