Brooklyn-based hip hop artist EsZ (Erron's Attic) is back with a new single, entitled "Up In The Clouds" in which EsZ uses the GTA online video game as a metaphorical inspiration for describing the current state of the Rap game. And the opening verse speaks rather clearly: "Up in the clouds / Losing my mind / Been about a minute / If it's loaded then I'm in it / Just got a New Whip, cause it's all about Image / Threw rims on that bitch, New Paint got it Dropped & Tinted!" A strong emphasized start and great beginning, to tell you that EsZ about to give you something real!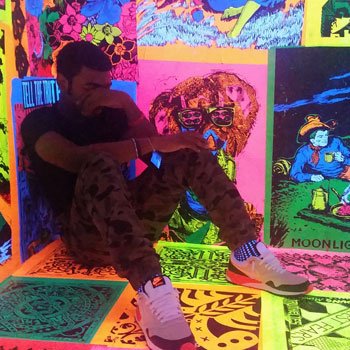 This is further proof that in the midst of the "hip-hop is dead" stigma that currently plagues the game, looms a young visionary who is setting himself up to make a positive impact. EsZ speaks about us (and him) getting sucked into the way hip hop has become and letting it get the better of us. He knows hip hop can be more if we all just reached deeper and stopped being addicted by the superficial stuff. But at the same time he understands how the game has penetrated our ways and affected us. It offers huge opportunities to move up and move on!
This whole product just works: The beat, the production, the mix, the flow, and the concept. Taking full advantage of his creativity and cleverness, EsZ plays the role of the philosopher, dishing out insight and cryptic commentary.  He maintains a fine balance between consciousness and intellectualism which will definitely help attract a diverse audience. With the release of "Up In The Clouds", EsZ has crafted another blueprint that will hopefully re-kindle hip-hop's flickering light!
So if you don't have this single, go get it and tell a friend!
MORE ABOUT – EsZ (Erron's Attic) was described by DJ Koolaide as having "a unique approach to music which will overall take him much further than the average artist". Influenced by artists such as Snoop Dogg, Eminem, Lil Wayne, and Jay Z to name a few, EsZ's music is the culmination of his day to day experiences and interactions and can be likened to current alternative hip hop acts Lupe Fiasco and Kendrick Lamar – with what EsZ calls "Conscious Alternative Hip Hop with an Alternative Pop spin."
OFFICIAL LINKS: WEBSITE – ITUNES – SOUNDCLOUD – TWITTER – INSTAGRAM – YOUTUBE