Brooklyn-based hip hop artist EsZ (Erron's Attic) was described by DJ Koolaide as having "a unique approach to music which will overall take him much further than the average artist". Influenced by artists such as Snoop Dogg, Eminem, Lil Wayne, and Jay Z to name a few, EsZ's music is the culmination of his day to day experiences and interactions and can be likened to current alternative hip hop acts Lupe Fiasco and Kendrick Lamar – with what EsZ calls "Conscious Alternative Hip Hop with an Alternative Pop spin."
EsZ recently dropped his track "Maybe I'm Trippin (Seen U On Da Gram)", which takes a look at "what appears to be a fantasy world offline, revealing what's behind "da gram". The track beckons to inquire, if what the eyes behold are indeed true to form once offline and encountered in-person." This has to be my lucky week as far as Rap and Hip-hop is concerned. After discovering the immense talents of Rapper and Producer Solomon Vaughn a few days ago, I now bump into another young urban visionary. Who said Hip-hop is dead!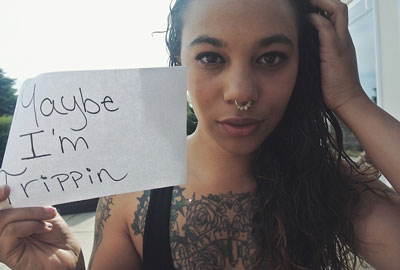 "Maybe I'm Trippin (Seen U On Da Gram)" is really a masterpiece and I think that this is by far one of the best singles of new age Hip-hop. The content is so current and speaks to meanings much higher than the usual street stories. The lyrics are delicately spun into the minimal music and come from a state of awareness about the millennium's decline into justifying the ignorant behaviors that have become way too acceptable in the technological and social media era.
I was seriously losing faith in the future of hip hop, at least on a mainstream level. Great hip hop is always around, but sometimes you have to look too hard. So when someone like EsZ comes along, you sit up and listen. The poetry, the social commentary, the introspective analysis, and the easy-going flow, it's all here, as EsZ bares his wise soul, and it shines through in an honest and brilliant way.
With the release of "Maybe I'm Trippin (Seen U On Da Gram)", EsZ shows that he is one of the very few emcees of the new generation that keeps bringing the words 'respectable artistry' to Hip Hop!
OFFICIAL LINKS: WEBSITE – ITUNES – SOUNDCLOUD – TWITTER – INSTAGRAM – YOUTUBE