Hailing from Worcester, Massachusetts, Gage Tielr has 2 years of experience in the music game, garnering him a new understanding of the music business. He has worked with countless producers, while learning the importance of persistence, endurance, and patience in finding his sound. From releasing his first singles and music videos to traveling cross country, Gage's vision remains clear. He maintains the goal of creating music that spreads love. Fiercely personal and lyrically unpretentious, Gage is on red hot form throughout his EP "With Love", firing shots like a high-powered artillery gunner.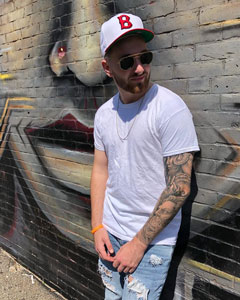 The recording is jam-packed with incendiary moments. The bouncy Latin-styled production of the single "Emblem", is a trip back to the glory days of crystal-clear booth-spitting. It sees Gage proclaim "I can't give a damn about what they say, because I'm headed to a place they can't stay." This clearly indicates the rapper's confidence and ambitious mindset.
Further highlights include the cinematic and swaggering opener "F.W.Y.S", in which Gage Tielr declares himself a new king, in the face of those who doubted him. "Twisted" possess a palpable sense of focus as Gage continues to uncover his desires and explain the importance of his grind.
It's concise and straight-to-the-point, with no signs of over-indulgence. "The Plan" marks the rapper's skill as a writer– able at throwing together tautly wrapped internal rhymes, and witticisms, here Gage delivers newly chiseled emotional gems centered on relationship intricacies.
It's clear that Cage is self-assured in his craft, avoiding the throaty mumbling modulations and patois of his contemporaries in favor of what we can call plain-speak. This straightforwardness makes him easy to understand and relate to.
So when he lays down the gauntlet on "Safe 2 Say", you can clearly hear him spit: "I think its safe 2 say that my paper going up. I think its safe 2 say these other rappers giving up." You don't need a dictionary to read between the lines or stretch your mind beyond believable, to unravel cryptic messages, as Cage delivers it straight into your face.
With production that shares melody and soul, plus added verve and urgency, "Speedin" ft. Pyro Da God, manages to find a balance between necessary gravity and inviting wistfulness. It's decidedly more mainstream and hooky than the EP's usual output.
A similar hooky formula is used on the breezy "Written Down". Though it could fit in with the greater narrative of the record, it's also its own song with Gage reminiscing about an old flame. The closing track, "Talk About", is extremely introspective as the rapper deals with the experiences that have impacted his existence.
Something has to be said about Gage Tielr, for someone who has been in the game for such a short time, he sounds very much like a veteran on the microphone. It is easy to forget that he's been torching microphones seriously for only two years. It is that level of ambition, talent and perspective that he brings to "With Love" that makes this record special.
There is a profoundly thoughtful approach to this record that can be seen by its cover art and the title of the project. This EP is incredibly intentional and focused by design. The length is a mere 8 tracks long which effectively leaves zero room for filler cuts. The concise length of the project means that Gage Tielr needed to maximize the run-time of "With Love" and indeed he does.
OFFICIAL LINKS: WEBSITE – FACEBOOK – TWITTER – INSTAGRAM – APPLE – SOUNDCLOUD