Montclair, NJ – Sean Cos Mason aka Sean M is a Hip-Hop Artist, songwriter, and producer. This multi-talented Hip-Hop Artist and Montclair's dopiest rapper is also the founder of Trademark Noneillah LLC and Nonillaah Entertainment
Rising out of Montclair, at a young age he was captivated by the fantasy and whimsy of music. Sean was inspired to be a musician since he was two years old. His mother brought him his first toy guitar with an attached microphone.  Sean recalled when he used to walk around the house, singing and playing his guitar to Michael Jackson music at the age of two.  At the age four, his mother brought him a walkman for Christmas and he used to play his cassette with the song Disco Inferno by the Trammps.  He would go around the house and outside rocking to burn baby burn.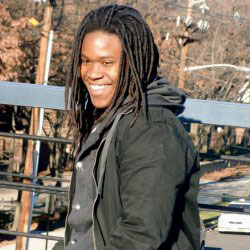 Sean Cos Mason was introduced to different genres of music, from classical, jazz, disco, club, opera and more.  He was exposed to the world of music through his mother's "Music Appreciated" college course. When he got older, he wanted to learn more about the music; so he signed up for a choral class at Mountside Middle school in Montclair. In his choral music class, they went to different schools to put on concerts. Right then and there, he knew his love for music had grown with a strong passion to learn more.
As a result of his early learning, listen to music and love for diverse styles of music genres he became open-minded and developed a unique style of writing.  By the expansion of his musical understanding, it helped him to strengthen his vocabulary and express his most inner thoughts.
The rich language of music inspires him and motivated him to become a hip-hop/rap artist. Sean began writing his own music in 2007 and released his debut single "Life Hurts" in June 2007. The intense message of the lyrics and back-story has inspired his creation. Accompanying with the release of his song; this arose from his mother tragic car accident affected by Bloomfield NJ police officer chasing a stolen car. The stolen car crashed into his mother car head-on and left he disable. Sean was upset what happen to his mother, the man who stole the car and how the police officers get away with a lot of criminal acts against citizens. Therefore, he channeled his emotions into his song "Life Hurts".
At the age of 17 years old, Sean Cos Mason began to attend local rap battles. From the age to 17 to 20, he has performed in multiple underground venues and rap battles with his battle group called, "When Animalz Attack".  This talented rap artist was not only a battler in the group he was a staff. He used to run rap battle leagues and pick a lot of New Jersey's talent to go to perform worldwide. Sean was very active in the rap culture.
This New Jersey rapper has a clever word usage that rhymes and touches upon honest topics with making piquant observations about daily life without shying away from thoughtful self-observation.
In Sean's song "Hands on the Wheel" proves to be an incredible storyteller with fantastic flow and a crafty metaphoric wordplay. His strong word usage demonstrates that he is a truly talented lyricist with a soulful rhythm in his video.  In the music video, he displays swag and a playfulness vibe that capture his viewer's attention.
In the past year, he earned glowing press coverage from Rap Bully, Farvoo, Fresh Out The Booth, IGGY online magazine, Ireport, Artist Track, All The Hip Hop, 188 Press Release, Um2n.MI2n.com,  MI2N.com, HHUCIT, This is 50, Desertstorm, Real Magic TV and Above Average Hip-Hop.
This skillful intense talented rapper has an impressive rapping vocabulary so you don't know what to expect from the rapper. These qualities are what I personally look for in a rapper. Rapper's with a dynamic and changing flow that isn't predictable with their wordplay create a strong and powerful track to best present their ideas through music. Sean hopes to inspire everyone though his lyrics.
You can also follow Sean M on his social media here:
Twitter: https://twitter.com/noneillah_?lang=en
Instagram: https://www.instagram.com/noneillah/?hl=en
Twitter: Sean Cos Mason https://twitter.com/smnoneillah?lang=en
Facebook: https://www.facebook.com/Noneillah