(Tulsa, Oklahoma) We're excited to announce that Tulsa rap legend, Dangerous Rob will be a featured performer at this year's annual HIP HOP 918 show! The show is set to take place on September 9th at 7pm, and will feature some of the best out of Tulsa. The show will feature the legendary EPMD, which will guarantee an unforgettable experience!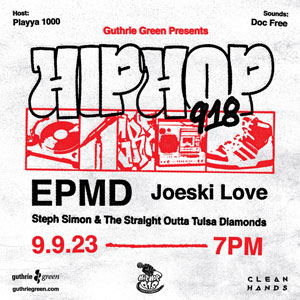 Dangerous Rob has had an amazing year thus far, with the success of his single, "I Love U", to being featured on numerous websites, gaining airplay, and receiving an Icon award. It makes perfect sense that he would be performing on the city's biggest platforms.
The HIP HOP 918 show will be celebrating 50 years of hip-hop, and featuring true hip hop talent. Opening performances will also include Joeski Love, and Steph Simon & the Straight Outta Tulsa Diamonds. To be selected amongst a healthy population of rap artists definitely speaks to Rob's talents and notoriety.
This will be an event you're not going to want to miss! The event coordinator, Steph Simon, had this to say about Rob's upcoming performance: "We're excited to have Dangerous Rob performing at our annual event. He's an asset to the community and we're excited to see him on stage!" Catch Dangerous Rob doing what he does best, and be sure to check out his latest single, "I Love U" available on all streaming platforms. Also, be sure to stay tuned for Rob's forthcoming album, and some more BIG surprises!
For interview requests, or coverage for Rob at the show, please email tasha@lotticreatives.com.
Stream/watch Dangerous Rob's "I Love U" – https://youtu.be/AJPLFaOIfn0
Event address: 111 Reconciliation Way, Tulsa Oklahoma