JAEWAR presents "WADDUP" the official single from the solo EP "TRUE! RAW HONEY". WADDUP is a thought provoking call to action matched with appropriate imagery through the video directed by Ty Cooper and produced by Melody Robbins. Music and lyrics were produced and written by Jaewar and E. Smith of the Vibe Riot band and mastered by EL Copeland of Rock This House Audio and Mastering.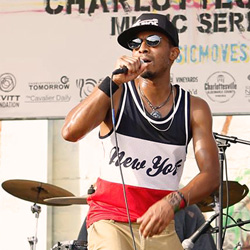 Jaewar & Vibe Riot is an East Coast Indie band founded by frontman Jaewar, Eric Smith (guitars), Dan Cotting (bass), and Colin Kovacs (drums) in 2013. If you fused the funky groovy kaleidoscope attitudes, charisma, and soundscapes of Prince, Bob Marley, A Tribe Called Quest, and The Roots, you just might recreate something like Jaewar & Vibe Riot.
The band roster has evolved, and some members now work behind the scenes. Tim Burnett (bass), Paul Dudley (drums), Xe Jah'Twi (vocals) and Essie Quoi (vocals) have been major contributors to the upcoming record and live shows as the band plays regularly in Washington DC, Maryland, and Virginia.
Jaewar's new EP "TRUE! RAW HONEY" is slated to be released on April Fool's Day 2017!
OFFICIAL LINKS: VIBERIOT – FACEBOOK – TWITTER – INSTAGRAM