JFK has just released his latest single "I'm Blowin' Up" crashing through the industry wavelengths right into the laps of the conscious continuum of modern musical globetrotters. The filthy orchestral stabs countered with the computerized futuristic electronic bell-like sounds ride over top creating an energetic mix that JFK primes for combat on this unprecedented single.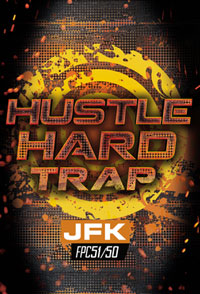 The gruff vocals fortify a conducive environment for rabid lyricism to wreak havoc upon the instrumental with effortless bars and aggressive delivery. The stereo panning of the adlibs established an interesting result through the track duration that reinforced a delayed maneuvering of intricately divine graces.
Tonny Fadd (Multi-Platinum Record Producer) is an integral player responsible for timeless top-tier music industry hits holds his respected position on "I'm Blowin' Up" with a signature stamp placed within the collective sound – Furthermore, this gives the single substantial credibility to peak past the underground appeasing to both realms of viewership. The manufactured production pays significant homage to retroactive artists that came before JFK while simultaneously keeping in accordance to his ludic vision and true musical nature.
 In addition, there is a sense of boldness that the listener will enjoy with an old school undertone contrasted with a trip of tangled soundscapes. JFK continues to push the boundaries of possibilities honing his craft and taking no prisoners displaying carnal talent as the only surviving entity in the musical revolution.
OFFICIAL LINKS: TWITTER – FACEBOOK – DIGITAL DJ POOL – NUMBER ONE MUSIC – ITUNES – SOUNDCLOUD