"Countdown to One O (210)" has been in the making for over five years. Originally intended to be K.T. The O's third music release, he instead decided to continue improving his craft – lyrically, conceptually, and his level of performance.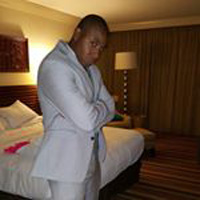 Now, The O and his team are fully confident that this music is worth the time and effort to really listen to, worth the time, effort, and expense it cost to record and produce, and worth the time, effort, and expense someone will give in return for having a copy of it themselves. This is real Hip-Hop music, with engaging hooks and beats, but more importantly engaging lyrics.
Fans have said K.T. reminds them of Chance The Rapper, Childish Gambino, Common, Charles Hamilton, but also artists like Eminem, Big L, Drake, and others.
You be the judge. K.T. The O is an independent entertainer with experience professionally working in stage musicals, hosting events, comedy, modeling, singer and songwriter showcases, and of course hip-hop shows. The songs are inspired by real life: his own and those close to him. These are songs to encourage, inspire, provide relief and an escape, and sometimes just to have fun.
MORE ABOUT: Kristopher William Thomas was born September 12, 1987. Half Black and Half Guatemalan, he's never felt connected to just one group of people, but people have always been important to him. He is an established entertainer with experience in many performing arts. In school he focused on the stage through live theatre and vocal performance, engaging in dramas, comedies, musicals, improvisation, recitals, and coaching fellow students when available.
After some time in college, "K.T.", decided to professionally pursue music, specifically Hip-Hop and alternative sounds as he had always been interested in poetry and spoken word, and had been a DJ of sorts, creating instrumentals using MTV Music Generator as a child.
Today, K.T aka The O (stage name) regularly works with artists from around the States and has fans in the US, Canada, Europe, Australia, and elsewhere. He actively works encouraging local artists and the various entertainment communities to work together and raise the public perceptions – local and national – of the city of San Antonio, TX and bring it further into the international spotlight, with an international artist. K.T. has also continued his theatre work and recently acted in various short films and music projects.
He continues working with various theaters and film groups from around the world and writing film and stage scripts. Given that his career preference is performance, K.T. is willing to relocate and/or be part of long-term tours or episodic productions.
Most recently, K.T. won a national modeling competition and is seeking representation with a talent agency. He is also currently serving active duty with the United States Army. His first commercial release, "Countdown to One O (210)" is scheduled for mid-March 2017. Please contact him via email or phone for business and commercial opportunities.
OFFICIAL LINKS: REVERBNATION – INSTAGRAM – FACEBOOK – TWITTER – DATPIFF