"Thought you were from Brooklyn" is a brand new mixtape that KiD Blitz came up with.  It has all the classic Brooklyn beats and covers the subjects from KiD Blitz' first semester in college. If you love Hip Hop, and I mean real hip hop, with dignity, fire and intelligence, this one is for you. If you like dumb commercial hip hop, look somewhere else, this is really not for you.
KiD Blitz flow has an inner-force and power that makes you shut up and listen. He has improved his technique a lot over the last couple of years. However be careful, this is not the mixtape you play on a sunny day, drinking beer with your girls. This one you should blast when you're alone in your room, late in the night with heavy rain hitting your window. That's when the energy of "Thought you were from Brooklyn" shows up; a real gritty and cool vibe.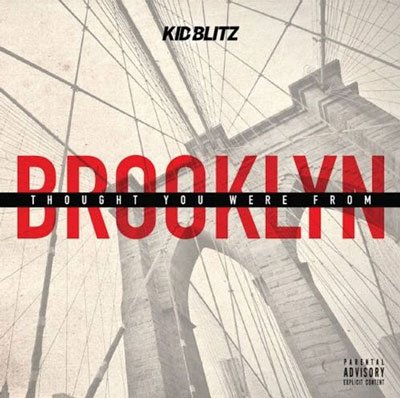 "Thought you were from Brooklyn" is almost certainly a better acquisition than most hip-hop albums out there now. More than anything, it serves as a satisfying example of a young hip-hop artist who hasn't yet, burned out, or sold out his craft to be an industry kingpin.
Production wise, KiD Blitz and Pierre Fontaine are genius at their originality and how good they can keep a certain sound on an album or mixtape on every single track. Well they do it here again ( at least I think it's Pierre assisting Kid Blitz on some tracks here, but I can't be sure), just like they did on "Cayenne Reheated". Every song has a certain vibe throughout it and they all tie in together perfectly.
The mixtape shines in more than 6 songs out of 10, therefore it is fully worth 5 stars. It is a prime example of how hip hop should be instead of all the R&B mixed with hip hop bull getting released recently. The 3 songs that instantly caught my attention had to be "Hot Kidd", "Dead Right" and "Get Money".
"Thought you were from Brooklyn" is not built for the average hip-hop listeners but created for the heads looking for something meatier. It's a mastery of an almost off-the-cuff sound. It's like sitting in on a private discussion between a couple of friends. This is another raising of an already high bar for Kid Blitz, as he takes us into a universe of metaphors and cyphers describing the world around him. If you're only going to pick up one mixtape today, this is it!
OFFICIAL LINKS: ITUNES – FACEBOOK – SOUNDCLOUD – Instagram@bryson_kid – Twitter@kid_blitz_