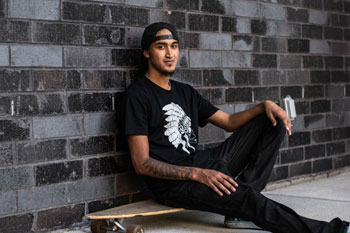 Robert James Ritchie Jr., who is recording as Robert James, released the music video for "Exstacy," the first single from his debut album. "Exstacy" is an upbeat R&B-flavored love song. The video finds James, 25, serenading his girlfriend and ends with the two of them in a shower together.
Kid Rock linked to the video on Twitter & Facebook on Friday. "My son released his 1st single off his debut album today!!" Rock wrote. "He sure can sing and I am very proud of him!!"
In a recent Facebook post, James described himself as "an unsigned indie artist with a celebrity for a parent." He works a day job at the Apple store but says his heart is in his music. "I had my daughter at 21 years old not knowing what I was gonna do. But I put in work and I refused to ride coattails," he wrote.
James has released several songs in the past. "Bad," a rowdy hip-hop jam, was released in January, and the R&B ballad "All Alone" was released last year.
Check out the video here:
MORE ABOUT ROBERT JAMES: "You get what you put in and people get what they deserve." I can't tell you how often I've heard that from my father, Robert James Ritchie. You might know him better as Kid Rock. Yes, I have a famous dad, but I'm my own person. I'm self-made and a new father, and determined to maximize my potential. I've worked my whole life, purchased all my recording gear and have stayed focused with two best friends from high school on the ultimate goal – making music for the masses.
I don't expect anything handed to me. It would be a mistake to set limitations. My dad never has, so why would I? My two biggest musical influences are Michael Jackson and Eminem. I'm very melodic; my vocal influences range from Bruno Mars to Jackie Wilson. I like the technical aspect of this craft and learned – sometimes the hard way – that success isn't guaranteed.
This is an introduction to what I hope is a long career. This is the start of a humbling journey that will make me appreciate even more what my father keeps making me earn. All I ask is for an opportunity, a chance to show what I have to offer. That's what it took for my father to make it in this business. I'm thankful to have learned from one of the best in the business, but sometimes taking chances is the best form of education an artist can take.
It's time to give it my all; it's time to remind myself why I do what I do. Regardless of bloodlines, I'm a product of Detroit, Nashville and beyond. And I wouldn't want it any other way.
OFFICIAL LINKS:
Music Video: https://www.youtube.com/watch?v=ItwRWpF9viE
Facebook: https://www.facebook.com/pg/Robertjames4real
Instagram: https://www.instagram.com/robertjames4real/