In her latest single, "SUIZA," the young songstress Pau Mueller presents an enticing sonic journey that effortlessly merges the allure of pop melodies with heartfelt sentiment. With a lyrical theme centered around newfound love, likened to the sweetness of Swiss chocolate, Mueller's composition resonates through its tender reflections and captivating Latin-pop rhythms. A meticulous collaboration with renowned producer Oscar Hernández, recognized for his work with industry titans like Marc Anthony and Jennifer Lopez, this track boasts an unmistakable quality that earns it a place in the upper echelons of contemporary Latin-Pop music.
Mueller's vocal prowess, a key asset to her artistic repertoire, elegantly emerges as a unifying thread throughout "SUIZA." Her silken and honeyed tones traverse linguistic boundaries, eliciting a potent emotional connection with her audience. This intrinsic ability further substantiates her status as a versatile artist with a global appeal, positioning her aspirations alongside notable Latin luminaries such as Karol G and Rosalía.
Composed in collaboration with Oscar Hernández and Aldrin Martínez, "SUIZA" is an integral addition to Pau Mueller's recent string of hits. This eighteen-year-old phenom, who has been steadily building her musical catalog, continues to enthrall listeners with successive releases, including the TikTok sensation "BANDIDA," as well as mainstream Latin hits like "LOKERA," "TURISTA," and "ROMANCHE." This trajectory underscores Pau Mueller's capacity to craft infectious pop melodies and infuse them with Latin rhythms that transcend geographical borders.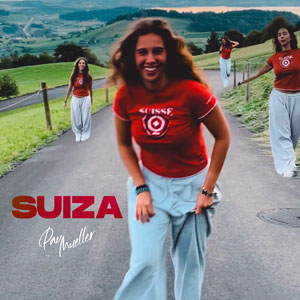 The lyrical essence of "SUIZA" encapsulates the whimsicality of youthful infatuation and romantic longing. The recurring theme of addiction also runs throughout the song, as highlighted by the repeated lines "Tu adictivo" (You're addictive) and "Cuando te lanzas tus pasitos prohibidos" (When you make your forbidden moves). This addiction refers to the irresistible allure of the person being sung about.
The addictive qualities are portrayed through metaphors like comparing the sweetness of chocolate in Switzerland to the person's allure. The comparison between the thrill of discovering new places and the emptiness without the person's companionship emphasizes the depth of infatuation.
"SUIZA" also touches upon the feelings of longing and unrequited love. The lines "Pasé por tu casa pregunté por tu mirada" (I passed by your house asking about your gaze) suggest that the singer is seeking any connection or sign of the person they desire. The chorus "Quiero olvidarte más me acuerdo de ti" (I want to forget you, but I remember you) captures the internal struggle of trying to move on while being haunted by memories of the person.
The song employs vivid imagery to convey emotions and situations. The lines "Loca y despeinada, actuando como si nada" (Crazy and disheveled, acting like nothing's wrong) paint a picture of the emotional turmoil the singer is experiencing. The phrase "carita de querubín" (cherubic face) encapsulates the innocence and charm that captivates the singer.
The track's instrumental arrangement serves as an evocative backdrop to Pau Mueller's vocal delivery. The instrumental segments offer an atmospheric pause that allows listeners to reflect upon the song's sentiments before being drawn back into the rhythmic cadence. This balance between musical interludes and lyrical exposition elevates the overall engagement of the song, crafting an immersive auditory experience.
In conclusion, Pau Mueller's "SUIZA" is an artful testament to the songstress' multifaceted abilities. Seamlessly weaving her mellifluous voice with evocative lyrics and entrancing Latin-pop harmonies, Mueller's collaboration with Oscar Hernández yields a piece of work that aims at attaining global recognition. Her artistry not only showcases an innate aptitude for crafting universally resonant melodies but also underscores the profound impact of her emotive vocal delivery. As she continues her ascent within the Latin-Pop music panorama, "SUIZA" stands as a clear marker of Pau Mueller's potential to contribute significantly to the genre's evolution.
OFFICIAL LINKS: https://paumueller.com