Abstract art is an inevitable part of contemporary art. In many cases, different movements that are using abstract ideas are dominating contemporary art in whole. Just take a look at exhibitions and the like, where different forms of abstract art appear everywhere.  It's impossible to follow contemporary art without respecting the important place abstract ideas have in today's world of the arts. There are a number of definitions of abstract art. The real question is: "Is it really possible to have one, coherent definition that would include all complexities of this movement?" What is very important to mention when defining the abstract art is the fact that all abstract artists share a common position – 'reality is subjective', and it's up to a viewer to define it. So when we came across the short film and music soundtrack "Atmospheric Re-Entry" created by Brian H Newman and Eric Posada, it was clear that this work cannot be reviewed and interpreted by one singular vision.
Hence we can only point you towards discovering this creative gem which is generally described as an; "Abstract Hip Hop musical takes you deeper and deeper into the dream state.  It shows one existing in different dimensions and scenarios. And at the end of the day you realize it's okay to be yourself."
We're not here to challenge or exult that theory, which is your own personal prerogative, this being abstract art. We're here to document the impact of its communicative musical language, and the talents of artist Brian H Newman aka Lokye founder of the WE!RDOZ GANG art collective – an abstract artist from NYC who is currently living and creating in Hamtramck M.I.
I first watched the short film in its entirety, and was impressed by the creators' intent, as well as the overall quality of both the visuals and the music. Then I switched out the visuals and concentrated on just the music, to see if the recording had the ability to be enjoyed as a standalone piece of art.
To my surprise the artist Lokye and producer Dusty Fingerz, have put together words and music that are just impacting without the aid of any visuals. In fact the music comes from a brilliantly eclectic 12 track album, featuring a cluster of diverse artists.
If the continuing interest in abstract art lies in its ability to inspire our curiosity about the reaches of our imagination and the potential for us to create something completely unique in the world. Then this is what Brian H Newman aka Lokye, and his creative crew achieve here, in both the album and the short film.
Their explicit words and music stimulate varying levels of mystery and curiosity while the visuals seek to titillate the mind. Like poetry, this art does not dictate a single clear narrative but rather, offers vivid fragments of a narrative which you can piece together in your own mind.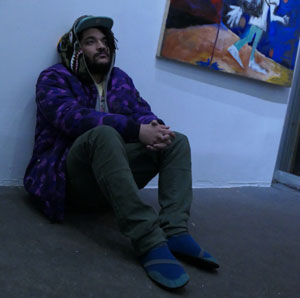 The beats are soulful and organic sounding, with the mesmeric sing-song and rapped verses weaving their way between the dynamic soundscapes. Clearly, apart from the impressive visual manipulation by Eric Posada, Lokye and producer Dusty Fingerz prove to be talented music artists in their own right. And this album should be downloaded on its own creative merits alone.
The best way to enjoy the entire audiovisual experience of "Atmospheric Re-Entry", is just allowing yourself to be taken in by the images and music. See what emotions, sensations or memories emerge. Let your eyes and ears relax and travel around the piece withoBrian H Newman aka Lokye founder of the WE!RDOZ GANGut expectation.
By the end of the performance, the power of its messages will eventually have come to the fore and taken hold of you. During the upcoming SXSW events, the WE!RDOZ GANG ART Collective will be present with an awesome event in Austin TX, on  March 15th from 6pm to 10pm. You can find more information by clicking HERE.