Maggie Foley is from China and has been living in the US for twenty years. She is a college professor teaching finance at a university in Florida. Maggie recently released the track "When I Miss You", for which she wrote the lyrics and the music.  The track is a dedication to the woes of love and longing. The language of love can be translated in many ways, but the most universal? Music.
Whether you're adding a romantic tune to your summer playlist, need something emotional to blast on your next road trip, are in search of an song to help you nurse your heartache, or you're in the mood to stream a ballad that'll remind you of a lost one, "When I Miss You" is the type of song that can be on that playlist.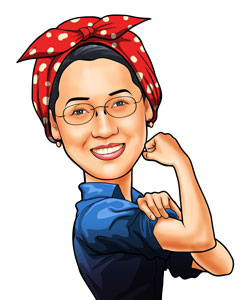 Between the music and her lyrics Maggie draws on emotions and themes that most anyone would be able to relate to in some way – love, heartache, empathy, encouragement, forgiveness – and there is something about her voice that reaches into the soul. There is some great creativity in her chord progressions and throughout the track I never lost interest in what was going on in the music.
Overall: It's relatable and uplifting. It's tender and intimate. It draws inspiration from both the light and the dark. And most of all, I can tell that this song came from her heart. Very personal, cathartic, and heartfelt, "When I Miss You" will definitely put you on an emotional rollercoaster, but in the best way possible.
Creating original and unique blend of music and lyrics that have a distinct feel and sound which will make one wonder where someone has heard that chord, riff or melody before, but the lyrics are the highlight that hearkens back to songwriters that had a flare for storytelling.