Majesty Houston from Houston, Texas, is a hot new 22 year old upcoming artist who is on her way. She raps, does R&B and she's very open to making different kinds of music. Be on the lookout for her as she's coming to a city near you. Majesty is brash, brazen, ambitious, and delivers it all with pride. None of which would matter if she didn't have the talent to back it up: She's a powerful rapper with a forceful and distinctive flow and clever, piercing lyrics.
Hip-hop is the genre with the least representation for women in it. Nicki Minaj and Cardi B are essentially the only women who can score No.1's in the genre today. There are loads of young women rappers coming up behind them, but few who have got the ammo to beat them at their own game.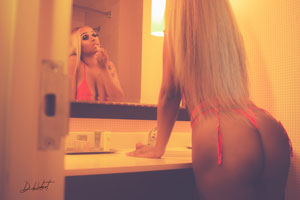 Majesty Houston aspires to being amongst those few, with her own particular style. Majesty doesn't seem to be trying to win the game while playing by the rules that the men who came before her wrote. She throws out the male rule-book instead, and does her own thing. In the face of any possible skepticism and critics, the fiery female rapper does not disappoint on her single, "Yea Yea".
While she knows she still has a way to go to be mentioned among some of rap's female elite emcees, to her credit, Majesty Houston more than holds her own on this track. With a solid showing of skill and finesse that most may not have foreseen coming, it is clear that the 22-year-old rapstress is a raw talent.
She's working to perfect her craft, and flexes her muscles on "Yea Yea", to prove that she is more than capable of being among the next big females in the rap game. The point of all this is to say that for a woman to get to the currently ubiquitous level of their male counterparts requires exquisite talent and tremendous resilience.
Thankfully this track is brimming with both. Her delivery style at best gives delicious tongue-twisters, enhanced by her distinctive accent. The brash vitality of the way Majesty Houston is genuinely thrilling and potent.
"Yea Yea" finds Majesty Houston in her prime, cleverly shaping her own lane and carving out a path that continues to usher her into the public eye. She stands proud as one of the female underground's finest!