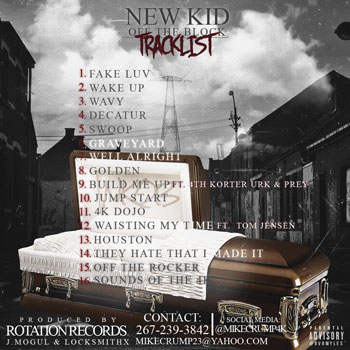 "NKOB Born to Die" is a mixtape of passion and triumph. It details a kid who as struggled but also shows his outlook of how things will be when life gets better. The tape starts out heavenly and electronic while transitioning into telling a more personal story. Mike Crump does a great job of setting you up with catchy songs and creative lyricism to end it. In all "NKOB Born To Die" has a little something for everybody.
Mike Crump is a rapper who grew up on the streets of Philadelphia, although not a street rapper you can here pain and tough times in his music. His approach is authentic more so giving you a view of his life and upbringing. Mike began rapping at the age of 14 but has been taking his craft seriously for 3 years now.
His debut mixtape "Soul Searching" gained him recognition by getting passed out at local parties he would host. He then realized he should put more bounce in his music so "New KID Off The Block Born To Die" was created.
A mixtape that doesn't lose his content but also gives you a reason to move. It's been said to have a little something for everybody. In conclusion Mike Crump is a rapper on the rise and defiantly an artist you should keep your eyes on.
Social: @HipHopPush @Mikecrump4k