Both wizened and hardened by life's experiences, struggles and joys, it should come as no surprise that Woodbridge, VA based hip-hop artist Mr.Reaper, has never taken any shortcuts in his craft, nor leave as much as an unpolished bar lingering on any of his tracks. A record that is fine-tuned to the utmost extent, his newest single "Ballad Of The Reaper" is a conscious effort to create a turning point in his life. A moment to leave all the dark clouds behind, to let go of all past doubts, fears and challenges. It serves as a grand reintroduction to everything that he excels at, while also affording him the opportunity to understand that he is in control of his present, as well as his destiny.
"Ballad Of The Reaper" is a diverse project that's in keeping with the duality of Mr.Reaper himself, much of the record may have a self-assured swagger to it that's augmented by consistently riveting production, but it also doesn't shy away from exposing the soft tissue of past hang-ups that once lurked just below the surface. His rampant thoughts present themselves in his rhymes.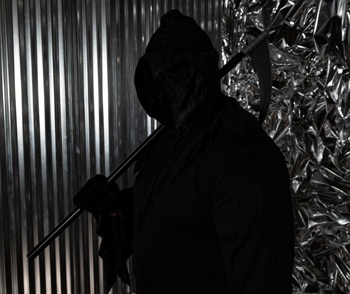 Delivered with finesse to spare, this offering brings all of Mr.Reaper's acute wordplay and confidence in his flow and skillset to the fore, considering that he barely even breaks his train of thought as the instrumental takes on a foreboding tone. In truth, he goes out of his way to make the scope of his abilities and newfound self-empowered positivity very clear. In such, reasserting how much of a singular entity he is in today's industry.
The most arresting of all of his recent releases, the "Ballad Of The Reaper" has a sustained tone and momentum. It's as reflective as it is owning. Mr.Reaper knows what he has done and gone through, to get to this point, and he has never been scared to approach those moments in the past. But now he is relishing in his freshly found inner power. It seems like nothing can hold him back anymore. He is standing tall as an artist that knows his direction.
Maybe, it's time to consider Mr.Reaper as part of the conversation. One of the best, most interesting independent, underground rappers around. For those who weigh success by follower count or mainstream clout, that might be an outlandish statement. But for those of us who have been riding with Mr.Reaper for a couple of years, it's an palpably apparent. He has constantly turned heads with his biting wit, deft wordplay and blunt sincerity. His wicked flow and insight continue on "Ballad Of The Reaper".
Mr.Reaper has been making headway in the business by following his own rules with an incredible set of releases. Regardless of how he has presented himself, he has always put in 100% of his best effort. Nearly every cut he has released has substantial elements to them, because he has always set the bar incredibly high. If you want to get a taste of what Mr.Reaper is all about, I recommend listening "Ballad Of The Reaper".
OFFICIAL LINKS:
Website:
http://reapgotflowz.net
Socials:
http://instagram.com/darealmr.reaper
http://facebook.com/Reapthajackal
http://twitter.com/Reapthajackal