What do Kanye West, Eminem, Lil Wayne, Kendrick Lamar, Childish Gambino, J. Cole and Kid Cudi, among many others, have in common, apart from being highly successful Hip-hop artists? They have all, at some time or other, suffered from mental illness, in the form of depression. Some have self-medicated with drugs and alcohol, while other have gone to therapy or treatment centers. Then there are those who write lyrics about their experiences. Hailing from Tallahassee, Florida, Quintin Tarintinto is proud to release a project that is close to his heart. Mental health is a growing topic around the world as the struggles people face on a daily basis come to light. Tarintinto shows that he is not afraid to dig deep in his latest project, "No Self Pity". In the album, he discusses his personal experiences dealing with depression and how he was able to overcome his deepest fears.
Hip-hop, a genre of machismo and braggadocio, has in recent years begun showing off its more honest side despite how fucked up it is. It's now cool to be transparent and vulnerable, hence artists like Quintin Tarintinto can now use music as therapy, for themselves, and even those who are listening.
This album is up there with the best of his discography. The production has evolved from his last album, and Tarintinto still has the great lyrical ability he's had since his debut release. The beats on this 15-track EP will grab the listener's attention faster than any other creative element.
This is probably because Tarintinto allows the varied beats to breathe freely, and grow under his flow, and partly because the production is simply out of this world. When Tarantino is expressive, he raps over different instrumentals than the ones to which many fans are accustomed to in mainstream rap.
He moves from epic cinematic strings on "Po Hustlin'", to slamming snares on "Ground Zero", sumptuously soulful guitars on "Cold 4/20", and lusciously layered horns and piano on "Lit".  But the sounds and atmospheres are unlimited on this EP, as Quintin Tarintinto plays with the rhythm, tempo and the overall feel.
Always keeping the great lyricism consistent throughout the entire recording, and making sure the groove is smooth, in between each track there is a skit meant to connect each song which maintains the flow of the storyline, and adds an element of reality.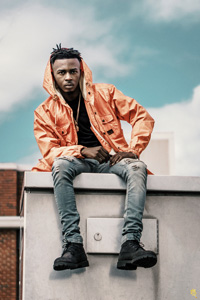 Three years in the making, this EP reasserts Tarintinto's status as a uniquely fascinating rapper. It's yet another deep, personal, reflective recording that'll impress listeners, who will find it hard to resist the closing tracks: "Wake Up", "Vibrations", "Attitude Adjustment" and "No Self Pity".
Depression as a subject matter wasn't known in Hip-hop until groundbreaking rappers like Scarface, Pac and Biggie (and, later DMX) changed the norm. Then it lost its way somewhere along the line to a whole new aesthetic. Now in 2019 we have a whole range of rappers like Quintin Tarintinto re-embracing that honest and open heart-to-heart talking.
For listeners, having an artist who allows you to feel free and relate to, puts you in a place of being unburdened and spiritually free. And while Tarintinto digs deep, the style and mood of his songs are never dreary or sad, which ensures that his lyrical exploits don't fall on uninterested deaf ears.
Instead "No Self Pity" reaffirms Quintin Tarintinto's prodigious talent and shows how exciting and adventurous rap can be when not overburdened with creating radio hits. This is much hungrier, much rawer and much more skilled than almost all of the mainstream rap releases of 2018 and the beginning of 2019. Tarintinto might be the most honest, naturally gifted rapper in the underground industry right now.
OFFICIAL LINKS: INSTAGRAM – TWITTER – FACEBOOK – YOUTUBE – SPOTIFY