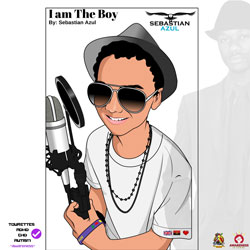 Sebastian Azul is a songwriter and producer from England (UK). Azul writes and produces his own songs, hiring session singers to perform to perform on them. Azul speaks 3 languages hence the accent in his voice. He also suffers from problems but they are not very present when he is on his element.
An independent artist, Sebastian Azul has been doing music technology and writing since he was 21. He took a break when he became a father, only to later discover that his 9 year old son was affected by Tourette's & ADHD.
Azul decided to support his son by raising awareness, voicing his opinions, his struggles and to tell the world what is like to have his son's condition.
Sebastian Azul is on radio rotation with the tracks "I Am The Boy" and "Pass The Mic (If You Wanna Know)"