Natalie Nichole is a renowned singer, songwriter, and actress in the music industry. She was born in Lubbock, Texas and raised in San Antonio, Texas. At a young age, she was involved in dance groups, talent show, TV shows, commercials, and Youth organization. She gained huge experience Throughout San Antonio, TX performing at local rodeos and festivals. In EP 'Simple' she talks about the different experiences of her life. There is continuous change in the flow of music which makes it's captivating without making it monotonous. All the elements in her EP are perfectly balanced and hold the listener's attention to the end.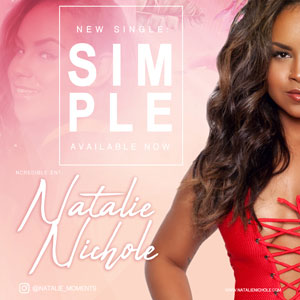 Aspiring artist Natalie Nichole's EP 'Simple' is amazing and the beat in the EP is quite interesting as well as brilliantly satisfying. The music behind the EP is enjoyable, ambient and captivating for its simplicity. The rhythm and the beat together in the EP make it quite attractive. The musical backdrop in the EP makes it even more captivating.  The professional finish and the sense of identity in the voice work really well in 'Simple'. The instrumentation in the EP is amazing and keeps the listeners entertained throughout. Music from the starting point sets the mood of the EP which holds the listener's attention till the end.
Upcoming RnB & soul artist from Texas Natalie Nichole's EP 'Simple' is well structured and keeps the listeners entertained. The rap vocal sets the mood which keeps the listeners captivated. There is the essence of both classic and contemporary music. The beat in the EP is simple and loops out to surround the listeners in a beautiful way. You can listen to her other tracks by simply tuning to the popular music streaming site Soundcloud. Find her on Facebook, Twitter, and Instagram to get more updates about her upcoming music and events.
Listen her amazing latest track by simply click on the link :
https://soundcloud.com/natalienichole/simple-explicit-natalie-nichole
For more updates follow her on social sites:
Facebook  : https://www.facebook.com/MsNatalieNichole
Twitter       : https://twitter.com/Ms_N27
Instagram :  https://www.instagram.com/Natalie_Moments/