Streets hits the world with 2 lyrical masterpieces "Save The Music" and "Cloud 9".Now for sale on iTunes and many other digital platforms. "Save The Music" is a lyrical Hip Hop song with an electronic ambience.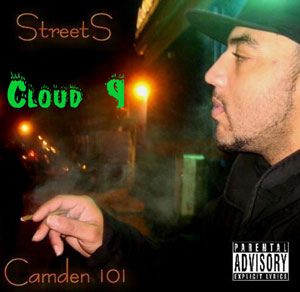 In this song Hip Hop artist Streets explains a lot of the differences between the music in the 90s and the modernization of music now. Witty and classic for those that understand his point of views. As for his second single "Cloud 9" is a lot more up-tempo. Cloud 9 talks about the purest of love one can have for that greenery. This one is definitely for the cannabis users. Catchy hook and lyrical verses, that rock well with nice bells. And a nice kick
Inspired by the voices of Nas, CNN, Mobb DEEP and a few others, Streets developed his own lyrical style @streets1984. #musicmoney artist Streets from New York City has taken the hip hop world by storm with his mastered lyrical style.
Bringing back originality and skill into the rap arena. Unsigned, and now residing in Los Angeles California, Streets grew up rap battling in the East Coast streets, and created a huge buzz with his powerful street banga titled street credibility.
Street credibility was Streets' introduction to recording vocals on a track. Growing up in the toughest of neighborhoods of New York City and New Jersey. He lived through the street life hustlin' and being incarcerated for years at a time.
Now creating a buzz on social media with his hit songs titled save the music, and Cloud 9 for sale on iTunes and other digital platforms. Save The Music is a song that explains some of the differences between the new hip hop and the golden era of hip hop from which he came from.
Streets developed his own lyrical style. He talks about his life and situations that he's been through and endured in the streets. From the street aspect to love and relationship songs to political songs.
His debut album Born In The Game (unreleased) is being talked about being the most hip hop and influential album since Nas's Illmatic. Most songs have been written, produced, engineered and recorded and performed by himself. Streets has come a long way from the gritty streets to creating a great sound. Through trial and era of getting it just right. From the streets to the booth.
Bringing raw talent back to the game streets has shown that he can hang with best of lyricists in the game. Having 3 albums recorded including remixes, Streets is ready to show the world that true genuine hip hop is still among us.
OFFICIAL LINKS:
https://www.instagram.com/streetest187120/
https://soundcloud.com/user183872435
https://www.reverbnation.com/streets7
https://twitter.com/streets1984
https://www.facebook.com/streets1984/
https://www.youtube.com/user/MrStreets1984
http://www.jango.com/music/Streets+Ent
http://www.musicmoneypr.com/music-promotion/4588010352
http://www.musicmoneypr.com/hip-hop-promotion/4593676748
http://www.musicmoneypr.com/dj-drops/4588010348
http://bestcreativeagency.com/
https://itunes.apple.com/us/album/cloud-9-single/1376554053
https://www.amazon.com/Cloud-9-Explicit-Streets/dp/B07CLC6THR
https://open.spotify.com/album/0hX52kHVyt2YAmx6BRw6cF#_=_
https://itunes.apple.com/us/album/save-the-music-single/1317301247
https://open.spotify.com/album/24mgBJmndOgb3Wtx7IxCbv
https://www.amazon.com/Save-Music-Explicit-Streets/dp/B077QJQ12V/
http://hood-x.ning.com/profile/WesleyJusino