SwagRight Toni has had enough experiences in the industry to last her a lifetime, judging from her bio notes, and the tone of her latest single "Fake" her best, most fully realized work to date. Her records usually drop with spirited, outspoken displays of confrontation, assuredness and empowerment, with the twists in their temperance coming through powerfully when the Ann Arbor Michigan rapper takes time-out to come down on those who have made life difficult or bad for her. Toni Wells better known as SwagRight Toni, is an entrepreneur and creative, who started the SwagRight clothing brand in 2013, humbly selling clothes to customers out of a duffle bag.
SwagRight Toni then transitioned into styling and marketing local music artists for shows and photo shoots, under the SwagRight brand name. Her next move came in 2016, when she escalated her endeavors to artist management.
As her passion and ambition grew, she eventually decided to use her talent for music marketing and industry connections, to introduce her own music to the world produced by her SwagRight brand. As a music artist, SwagRight is as eccentric and genre bending as her personality.
She explores R&B, Soul, Hip Hop, EDM and House music to create captivating sonic blends. Her latest single, "Fake" – produced by Tyron Woods from Durban, South Africa – tells her personal tale of transitioning from a manager in the music industry to being an artist. It elaborates the topic of fake people that most of us get to know, even if we're not professionals in the music business.
SwagRight Toni has proven herself time and time again as a talented rapper with the bars, flows and production to back it up. "Fake" is an almost-perfect reflection of just how unique and talented she is.  The single serves as a middle finger to those trying to control her art, and her persona. This is her dominion.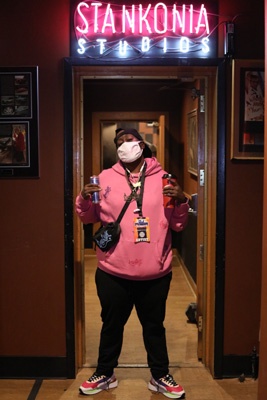 In a blaze of cutting takedowns and melt-in-your-mouth melodic hooks, SwagRight Toni constructs a multi-layered exercise in empowerment – as well as unveiling an entirely new layer of her craft.
Sharp-tongued and bold as ever, "Fake" asserts SwagRight Toni as an astute observer with a no-nonsense attitude. She knows her worth and refuses to let anyone get in her way. "Fake" abounds in empowering affirmations and a seething layer of honesty.
The song addresses SwagRight Toni's personal skirmishes but she always comes out sounding triumphant, energized, and on top. It's a track that is as entertaining as it is serious. Due to her nuanced flow and huge personality, you'd hardly mistake SwagRight for any other rapper.
SwagRight Toni can flow effortlessly and has the capability to construct good rhyme schemes and bars. Moreover, she never lacks substantial subject matter, as is the case with "Fake". SwagRight Toni is one of the most skilled rappers with her quickly delivered lines full of wordplay.
She is both creative and confident, which is a powerful combination in any art. Finally, "Fake" certifies that SwagRight Toni has reached an elevated level within her craft.
OFFICIAL LINKS:  
www.unitedmasters.com/swagright  
www.linktr.ee/swagright   
IG @swagright
Facebook SwagRight Toni
Twitter @swagrightc