The long awaited single by Te1 called "Gridlock'd" is produced by R&B producer Shawn Wilson of The Warningz. The melodic and groovy song is the lead single off of TE1's upcoming project called "The Prequel".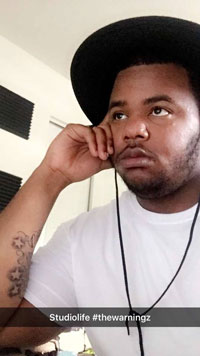 His poetic flow and metaphors really take you on a ride in this song and keeps you interested in every line. So enjoy this song and stay on the lookout for more from TE1 and production from The Warningz.
Marsalis Cerdan aka TE1 (The Enlightened One) is an true artist, with a passion for the pen. Hailing from Philadelphia, PA but currently residing in Newark, DE, this young man has a unique message to tell the world.
At 24 years old, he has been in the military (and is now considered a veteran), and is a current student at Wilmington University, pursuing a degree in Media Communications. He is truly a man of balance being able to relate to any human being.
OFFICIAL LINKS:
The Warningz – WEBSITE – SOUNDCLOUD – FACEBOOK – INSTAGRAM
TE1 – SOUNDCLOUD – FACEBOOK – INSTAGRAM