Lil' Boy was actually a song originally released on my debut album "Dare To Dream" composed by Topher Williams, and written by me. It's a song that was always pretty personal to me, because I used to be what is now considered a bit of a "fuckboy". I think all guys and girls go through that hoe-y stage in life (and some never stop), but reflecting on it, I never realized how empty it all was until I was older. To say the song was written during the darkest period of my life would be a bit of an understatement. In 2008, in a pit of depression and loneliness, shortly after I wrote this song, I attempted to commit suicide. I think it's important to tell people that because, I look back on where I was 10 years ago, versus now, and am so grateful to be thriving and living life.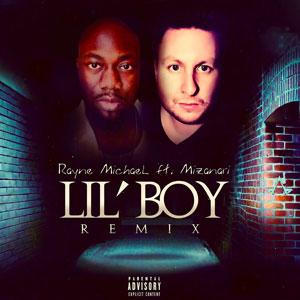 Mizanari came into the picture only recently via numberonemusic.com. He had reviewed my song "Baby I See" Produced by PU Muuzik, and so I decided to checkout some of his stuff. I liked his overall sound, and was at the time considering a track from my previous album to remix and introduce a rap element into what was already an R&B/Hiphop influenced track. He loved the track and wanted to collab. I'm very excited to introduce Mizanari to my many supporters, and I hope to continue to work together in the future. He is definitely a very talented musician and rap artist.
He wrote his verse on the track and it all came together in a way I never really thought possible thanks to an amazing audio engineer who has worked on my last two releases by the name of Mottini Wilson. He in my opinion is a genius, and does an amazing job dealing with my perfectionism, and really appreciates me wanting to put out solid works of art. The cover art that legit turned out looking like a movie poster was designed by @beatscovers on instagram. Definitely checkout that insta for some amazing artwork. Lyric video was created by a gem I found on fiverr few months ago that has worked on my last two previous lyric videos. I recommend hiring them if you want an eye catching video that steps outside beyond the typical lyric videos. You can find them at this link! www.fiverr.com/jayceeclaire
I cannot thank all of the individuals I've just listed above enough and am grateful to be able to be living the life I want to live, putting out the music I want to make – Rayne Michael.
MUSIC STREAMS: ITUNES – AMAZON – GOOGLE – SPOTIFY
CHECKOUT THE OFFICIAL RAYNE MICHAEL WEBSITE – http://raynemichael.com
LIKE ON FACEBOOK – http://facebook.com/raynemichaelmusic
http://facebook.com/themizanarikae
FOLLOW ON INSTAGRAM – http://instagram.com/therealraynemichael
http://instagram.com/the_mizanari_kae
FOLLOW ON TWITTER – http://twitter.com/raynemichael
http://twitter.com/mizanari_kae
FOLLOW ON SOUNDCLOUD – http://soundcloud.com/raynemichaelmusic
http://soundcloud.com/mizanari_kae