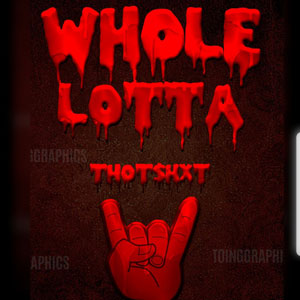 Everybody in 2019 never wants to own who they are- Thot$hxt is not everybody though, so don't get it twisted. Thot$hxt got his name from owning who he is and what he is- a Thot and someone who thought they weren't sh*t; and it's worked to his advantage. Thot$hxt is the sh*t and there aren't any two ways about it.
Ohio's answer to Club Bangers has arrived in the manifestation of Damn, Thot$hxt's latest release. Utilizing the percussive nature of the title in sync with his rhymes and beats is the only thing we need in the club to release our inhibitions and own who we are. If you're smart, you'll own your reality and use it as well as Thot$hxt does.
Check out his work on all platforms and follow his Instagram @Wholelotta937 to keep up with reality.