Zaena Morisho is an African Pop singer and songwriter who has made her way into the industry with an interesting style of music. She was born in the DR Congo, but raised in Houston TX which is a huge jump in location. By the age of 8 she began singing in a community choir where she learned to develop her voice as an artist. As the years went by she released her EP "You Don't Know" which included the hit single "Ur Love", which amassed over a million views on YouTube in just under 4 months. Zaena Morisho has partnered up with Hit Record Only and is working on her new music.  In the meantime she has released a brand new single in collaboration with songwriter Dewayne Ferrell, entitled "Be Alone".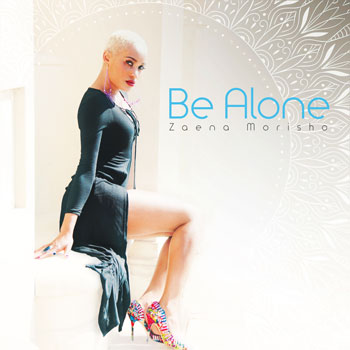 I've enjoyed Zaena's musical contributions for a long time, and last year I appreciated her "Diva" album. The single "Be Alone" differs from her other projects which were much more beat-oriented. Overall, the song is musically sound and catchy, and is a good representation of her talent. Zaena's voice is almost surreal in its beauty and range–sometimes a light, airy, but melancholy and seemingly effortless expression; other times a piercing, forceful, fluctuating unique sound that seems to serve a cathartic purpose, and certainly demands attention.
There is an electronic component to the song, but it's by no means a dance track, and fits more into the electro pop-rock category. "Be Alone" is both sad and refreshingly hopeful at the same time. Zaena is incredible in her songwriting, along with Dewayne Ferrell. The lyrics are simple yet meaningful, and her execution is of the utmost maturity.
The song begins, languid and slow, as Zaena murmurs, subdued, trance-like. But we know Zaena Morisho and her easy-listening urban R&B-influenced vocal reputation. It is intimate and confiding, a paint-box with a myriad of shades. Her vulnerable voice will pull you closer, as she pleads "I don' want to be alone". One of the few truly beautiful things in life is having the ability to stand at the portal to someone's inner self and listen. It's like standing at the threshold to their soul and peeking in, listening to what their heart is saying.
"Be Alone" is a dreamy, atmospheric recording which is a truly pleasing experience when listened to. Her previous successes and the release of this track suggest that Zaena Morisho's star will continue to rise. Buy this, download this, love this, and then pass it on to a friend!
OFFICIAL LINKS: WEBSITE – ITUNES – SOUNDCLOUD – TWITTER – FACEBOOK – INSTAGRAM