Music Artist, Songwriter and Producer, Tazewell, a nomad graduated from the hard knocks of 7City'sSouthside. Originally from Portsmouth, VA he settled in Virginia Beach, then migrated through the backwoods of Norfolk. Blessed with an Entrepreneur's spirit, through his up's and down's, his path is evidence that all things are possible.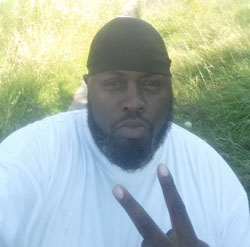 Not as an Artist, but as a fan of the Art, Tazewell, fell in love with Hip-Hop, as soon as he first heard her. Too many Artists to have a favorite, yet those that sought originality were the biggest influence on his path, particular the Blast Master, Krs-One, Rakim, OutKast, Pharoah March, Raskass, BlackMoon, O.C. Mos Def, Goodie Mob, Common, Wutang, RunDMC, Blackthought, Jay, Big, Pac, Nas, TooShort, Scarface, and UGK.
Tazewell's, grasp of knowledge of self and life's experiences, help to navigate his witty flow and crafty delivery through poetry and production, a stench of transparency minus the gimmicks for all Hip Hop heads to enjoy.
Off 7City's Alien Entertainment Record Label, Tazewell has released 2 singles "WALKING ON A CLOUD" and "TWISTED ON THE SOUTHSIDE" off his highly anticipated album FIRST ENCOUNTER, and his newest single "ART INDIE" off his Hot EP "ARRIVAL".
OFFICIAL LINKS: SOUNDCLOUD – INSTAGRAM – 7City's Alien Entertainment – FACEBOOK – TWITTER