The trio comprised of lead singer and guitarist Tyler John, keyboardist Hans Massaquoi, and drummer Pat Williams, have taken both their inspirations and their aspirations, to evolve into one of the more exiting, dynamic and meticulous underground indie rock bands on the planet. In just 3 years, the collective known as Between Giants, has landed a major Netflix series appearance, score an international publishing deal in major mainstream stores, snag an Independent Music Award for the 'Best Pop Album' of 2019, be honored as a semi-finalist in the Coldplay judged 'International Songwriting Competition', and clear well over 2 million streams.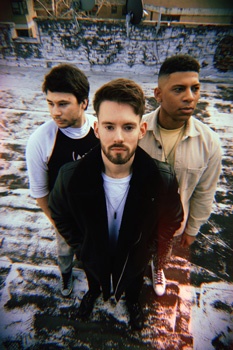 Along the way, Between Giants have been packing venues and captivating audiences with vibrant live shows all across the northeast, landing them major festival and opening slots, for key industry acts such as Sea Girls, SAINT PHNX, The Districts, The Sherlocks and many more. In between all the hustle and bustle, the band has also found time to work on their upcoming album, 'sad, hopeful things', set to drop on June 17th of this year.
For their new and third album, Between Giants have been refining their sound at the Grammy winning Carriage House Studios in Stamford, CT. (credited for work with Beyoncé, Diana Ross, Meat Loaf, Pixies and many others).
The band now dive into a fuller sound that is still intricate, layered, and expansive when it needs to be. In essence, they have become a tighter collective, more connected than ever before. How do we know this? Listening to their freshly released single, "Comfort Me".
"Comfort Me" is very much a Between Giants record, with the band capitalizing on the gloriously styled melodies that have become their hallmark. But the project is much more forward-thinking than their previous records, with a greater abundance of shimmering sonic lushness and vocal warmth.
What is consistent about Between Giants, however, is the strength of their songwriting. They know how to find a melodic sweet spot, and elaborate it into a mesmerizing set of verse and chorus motifs.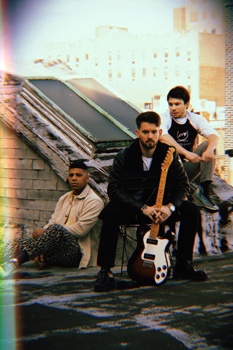 "Comfort Me" is another excellent record from a group who don't seem to know how to produce anything less than impressive. We almost don't deserve a band who remains so consistently inventive and appealing.
The comfort and familiarity Tyler, Hans and Pat have amassed over these last couple of years of playing together pays off in spades as they smoothly slide through this arrangement, fully in step together. The free-flowing collaboration serve as the backdrop for lyrics that examine inner melancholy in a direct manner.
On "Comfort Me", Between Giants have expanded to a point where each member's talents flourish, without the need for showy flash. It signals a wondrously affecting adventure that rewards attention and patience from the listener.
The comforting keyboard patterns, enchanting voice, and melodic guitar, unfold above the tasteful percussion, setting you off on a journey into a musical wonderland and leaving your mind spinning by the end. "Comfort Me" flawlessly combines everything new that Between Giants is doing, into one single track…until the album arrives!
Between Giants go on a National Tour this summer, starting on 6/16, with the full-length album, "sad hopeful things" drops on 6/17.
OFFICIAL LINKS:
Spotify: https://open.spotify.com/track/4d5tbBY5GGd4tAGNAUG4JM
Instagram: https://www.instagram.com/betweengiantsofficial/
Website: http://www.betweengiantsofficial.com