Boston's Akili Richardson  – AKA Cilo BGR  teamed up with the 1 We Us Music Mission where, together they are plowing a whole new high lane in Rap. Their first demo is titled Time for Change. Their attendant Rap Video can be viewed on YouTube https://www.youtube.com/watch?v=kqci9E8qeUY.  The demo is free to download or share from the 1WE.US website.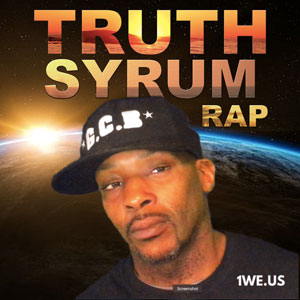 Early on Akili performed with the Chosen Few which gained some notoriety at clubs and events in the Bronx, Manhattan and Queens.  After relocating near Boston Cilo BGR became a founding member of B.O.E, headed by E-banger, which evolved into Gotham City Boys G.C.B. headed by Ricky Bats. As part of G.C.B  Cilo BGR has performed at places like the Hard Rock Café, Wonderbar, Opus, Middle East and countless other Venues. He also played a role in "Rise of a City" a Gotham City Boys album
Having grown up in NYC's South Bronx, Akili was attracted to the music and culture of rap and began writing lyrics at a young age.   According to 1 WE US founder Chris Sweeney, "His writing skills now bridge on genius."  I fed Akili information from multiple authoritative sources that I boiled down to around seven pages.  The weight of the 411 on Global Issues then inspired Akili to condense it into a hard hitting 50 second dress down rap on reality. His first take was a TKO."
Truth Syrum Rap is on a mission to inform everyone to pay attention to what's most important to the welfare of our planet.  This Rap is not about the bling, or the Bentley.  It's not about getting shot… but it is about money, influence, and irresponsibility that could lead to massive destruction.  You won't find any swear words in the lyrics… the listener will mumble plenty of those after taking a listen.
If you like what you hear check out his single "Visions" on digital platforms.