Fact; There hasn't been a highly successful hip-hop group from the Chicago area since Do or Die and Crucial Conflict. So often, when we think about Chicago hip-hop, the initial thought is Drill, Gangster and street music. When In fact, Chicago is a very diversely talented city when it comes to hip-hop. Also, in Chicago, the word "Clout" is often tied to and associated with negativity and the streets when the actual meaning of Clout is "influence or power, especially in politics or business".
Clout Godz, (Marco & Young Rob) both rooted from families that were involved in the street life, decided to take a different approach in life as well as musically. "We are fascinated by the music business, so we're trying to learn as much as possible" says Marco. "We get lots of attention before people actually hear the music or see the live show, because of our visual presentation" laughs Young Rob.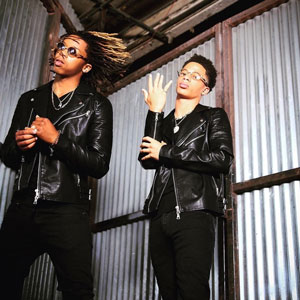 The CGE movement is fairly new considering they just started taking music seriously in late 2015. In April of 2016 the duo released their first single/video called "Sway" that has managed to reach almost 100k on YouTube (at the time of this article). Although the song went semi-viral, the Group made a tough decision to stop pushing and promoting the song.
Reason being, "We didn't want to be boxed into a lane with the dancer/rappers (ie Dlow, Silento, Ayo&Teo etc.) because we aren't dancers" vented Marco. "We are Artists, we can't even dance" says Young Rob.
Often compared to a young Rea Sremmurd and Migos because of their swag and unique style, Clout Godz is certainly one to watch. In 2017, CGE put in lots of work by releasing 3 more music videos, going on tour and dropping their debut mixtape as well as doubling their social media following.
Locally, CGE has managed to separate themselves from the pack. The group is working on expanding their visibility by pushing the music to other cities and states. Bookings are increasing along with the fanbase and the industry is surely starting to take notice
Currently, the boys are preparing for 2018 by recording lots of new music and shooting more visuals. CGE will visit Texas, Los Angeles, Atlanta and New York in 2018 to gain more exposure and build more industry relationships.
OFFICIAL LINKS:
www.Instagram.com/cgecloutgodz
www.soundcloud.com/cgecloutgodz
Apple Music/iTunes: https://itunes.apple.com/us/artist/clout-godz/id1260818517
Spotify: https://open.spotify.com/artist/3h13CgpxXOcyESiqC55iAg
Amazon: https://www.amazon.com/Trending-Topic-Explicit-Clout-Godz/dp/B07469DK98