Although "In Love With You" was written about the complexities of love and relationships, this record by Damiano Unique, is addictively energetic. Packed with unrelenting fire and attitude, "In Love With You" simply oozes positive energy and summery vibes. Punctuated by dramatic cutaways and luscious modulation, the song encapsulates a liberation from heartbreak, and the rush of finding love for yourself after feeling lost for far too long. In short, "In Love With You" Is your Sing in the Shower, Songs to Drive to, Favorite Coffee House / Living Room Mix. It's the Morning Commute, Soak Up the Sun, Fun in the Summer, Young, Wild, and Free, have You Heard This, At Work Song. Just Press Play!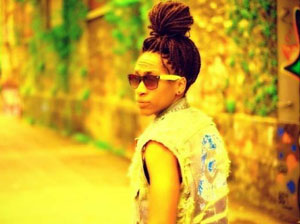 MORE ABOUT: Damiano Unique, American vocal artist, record producer, and entrepreneur was born Damiano Unique Austin in Montgomery, Alabama. She grew up in New Town, an economically impoverished & disadvantaged neighborhood on the city's north side.
Nestled in the shadow of Montgomery's history & located less than a mile from over a dozen historical sites, there weren't many outlets to escape the already beaten path. Attracted to the arts at an early age, Damiano began her exploration of songwriting & vocal composition as a child.
In the seventh grade, she became a member of her middle school marching band as a b flat Clarinetist, in which she organically evolved into a bass & contrabass clarinetist. After participating six consecutive years in middle school & high school band, she moved on to march percussion at Alabama State University. Damiano directly accredits her natural mesh of melody & rhythm to her musical background & says her development as an artist was and is synonymous with her progression as a musician.
In early 2019 after discovering and honing her creative gifts & vocal talents Damiano released a series content including Passport Music, a mixed tape that signaled the start of a promising new career. Damiano is creating a sound and style that will inevitably place her at the top.
Her unique style, distinguished melodic tones & intellectually savvy lyrics help separate the noise from art. Damiano Unique represents a generation that sees art as a brand, creativity as freedom and luxury as a lifestyle. #Wemoonwalkerz
OFFICIAL LINKS:
Stream/Download/Buy: https://song.link/us/i/1474708733
Website: https://www.damianounique.com
Social Media: @DamianoUnique