Originally from Stockholm, Diana Ebe moved to Los Angeles in 2013 to pursue her musical career. She recently released her lead single 'Elusive Pleasure' from her upcoming EP, to be released this summer. Ebe describes her work as expressing the "lonely and longing feeling of love and life," drawing inspiration from nature's power, daydreams, lust, and love.
Diana Ebe's strength as an artist comes from the rich, intense atmosphere of her music coupled with the self-reflection in her lyrics. She is not afraid to tell a story and also courageous enough to write hauntingly honest lyrics paired with her unsurpassed voice.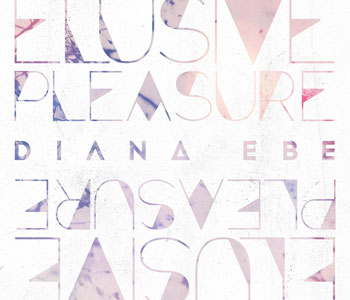 With 'Elusive Pleasure', the music matches that mastery of her lyrical persona, coining many wonderfully sublime and introspective lyrics, ethereal music lighting the mystery, just enough to bring to life her unique talent and vision. Her warm and personal vocals came across wonderfully, even before I was able to hear it on more than the tinny quality of an old laptop.
'Elusive Pleasure' is a beautiful track, heartfelt and moving, where Ebe demonstrates her ability to traverse emotional ranges, both vocally and lyrically.  She has chosen to stay true to herself and made a record that is meaningful and emotionally-satisfying.
It is quiet and low-key but it has been said that the most powerful moments can be found in silences and quietness is the loudest roar. She has chosen to disregard all music trends and fads and creates music that is relevant enough in current times yet sounds timeless in its appeal. And in doing so she is more relevant and trendier than most!
Quite honestly though, it doesn't really matter what she sings, because at the end of the day, it is her gorgeous, luscious voice, which is the centerpiece of her work.  Diana Ebe conjures complex, emotional nuances in unpretentious, natural lyrics that can catch a listener off-guard in a moment of vulnerability or reflection. This is a song that will surprise you on one of those nights when you're listening with headphones all by yourself.
OFFICIAL LINKS: WEBSITE – ITUNES – YOUTUBE – INSTAGRAM – FACEBOOK – SPOTIFY – SOUNDCLOUD