Heart Hays signed to INgrooves/Universal Music Group just released her new music video "Dancing with Fire" which is inspired by culture, dancing, a rare new genre that Heart has trademarked as "Tribal Pop".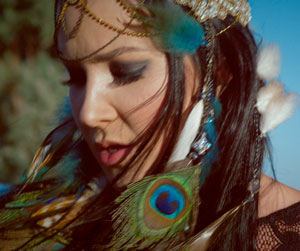 Heart Hays is one of a modern group of female artists who've been inspired by some of the best vocalists the 80's and 90's had to offer. This song is really impressive and keeps you entertained and dancing all the way through. Following up her previous releases Hays is ready to prove that she has all it takes to establish her pop status.
Taking everything that made her older stuff special and polishing it all up, Heart Hays moves from her pop rock stuff into her "Tribal Pop" era, and this is her strongest body of work by miles, more confident and cohesive.
The production is sleek with a stylish arrangement that matches her soaring vocals. Rather than sounding controlled by the producers she sounds very much in control herself. She is her most liberated self, not afraid to hint at her heritage, and allow her voice to go where it needs to.
"Dancing with Fire" is Heart Hays opportunity to show how she has evolved into a fully grown artist, which she promptly does. Make no mistake this is a woman in total control of her music. A solid pop-dance beat paired off with amazingly catchy chorus hooks makes this song pure ear candy.
But throughout it all she never loses her smooth style and her sense of pure enjoyment of the music. On "Dancing with Fire" Heart Hays has your attention, brings you in and then never lets you go. Her vocal artistry and spirited performance makes her very easy to enjoy and already has me looking forward to her next release.