DubbRich latest effort "Black Flag" materializes just at the right time to give hiphop some renewed notability. DubbRich is one of today's most inspiring rappers. Left of center, he is paving his own pathway. Conceptually structured around its title – DubbRich is ultimately a conscious kid trapped in a part LA, which is chocked full of vices and big business illegalities which he details through his life experience.
The title track "Black Flag" chronicles LA life and gangs, while "Broke" tackles the subject of struggling and the mistakes committed in trying to survive. "Stone Cold" discusses housing issues and how successful companies buy out family properties with large lump sums, to later be paid back in years' settlement agreements which devaluates the face of the property.
Flawless top to bottom, I get the feeling a few years from now this will be looked at as another one of those underground classics and will leave a footprint that will stand the test of time. The album really tells a story of rising from a dark place and understanding the shady things happening all around you.
And sometimes you're forced to be a part of those dusky doings just keep your head above water. You can't appreciate the whole album based on the first listen. Each time you listen to it there's something new to discover lyrically.
Throughout the 8 track album, DubbRich delves deep into his experiences – whether it's from within his family, friends or within his neighborhood circle – showing us where his inspiration comes from and what fuels his artistry.
DubbRich has demonstrated that he has tremendous depth as an artist through intricately layered and meaningful lyrics that flow as smooth as velvet on top of some excellent production. "Stone Cold" is an absolutely brilliant total package that, at the risk of sounding hyperbolic, constitutes a new paradigm for conscious hip-hop.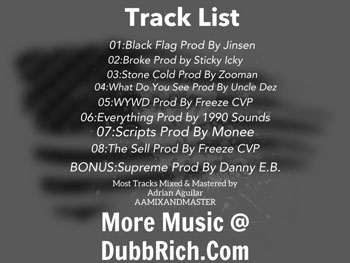 MORE ABOUT: DubbRich born Arron J Collins in Los Angeles, California is an American rapper – producer noted for his smooth, uplifting sounds and life-inspiring lyrics. He lived in Lancaster, California during his childhood and teenage years where he found his love for rap and poetry writing his first song at the age of 13.
In 2010, he moved to Los Angeles to pursuit a College Degree in Technology and Computer science meeting Pakkafella, Packpistol and MTG who would become his producers and mentors.
After performing in different venues of California such as The House of Blues in Hollywood, San Diego and Anaheim, he decided to step back from the music scene to continue his education.
After completing a BA, he returned to the music scene with a different perspective on life, fresh lyrics, beats and a more mature sound. Inspired by his personal experience and perception of his surroundings, he brings positive energy and motivating vibes to the scene.
OFFICIAL LINKS: WEBSITE – TWITTER – SOUNDCLOUD – APPLE MUSIC – SPOTIFY