LAVAHI's voice is a rare gift; powerful, seductive and enthralling. It's not her voice alone that makes her exceptional though, it is LAVAHI's understated aura of dripping soul that truly sets her apart. If given the task to reproduce the confidence, style and originality of her debut single "Forever", I can't think of any artist in recent years who would be able to even come close. Her debut is skillfully arranged so that most music fans will be able to unearth some element that they can relate to. The single may cast the net wide, but she is an artist with ambition, who doesn't want to be limited as she blends contemporary genres such as neo-soul and R&B, plus a hint of electronic and alternative. A multifaceted performer, her music reflects her personality.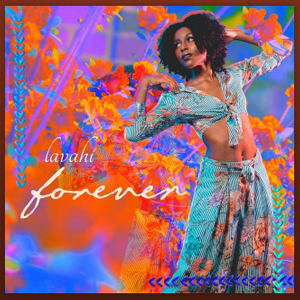 Featuring Dennis Turner (Bass), Elé Salif Howell (Drums), Walter Baker (Keys) Frank Rankin (Guitars) and LAVAHI herself (on Vocals, Keys, Synths, and Programming), "Forever" is a standout entry into its arena, with a song that feels honest and sentimental. LAVAHI's lyrics have an underlying note of self-reflection and analysis.
Her poetry behind her debut leaves an important starting point in her career; with this structure of personal touch and smooth soulful vocals LAVAHI is aimed to move towards success in an era where neo-soul is thriving. The gushing warmth of her voice resonates into a digestible, easy listening song.
Her brand of urban groove is familiar: warm production, processed rhythms, sleek vocals, palatable and accessible in every way. It is easy to understand how she will soon embrace the big beasts of the music industry, in a genre that has experienced a run of groundbreaking innovators.
LAVAHI sings like she was born knowing how, and her writing isn't far behind. The construction of the song, is infused with patience and care. This patience is on display immediately on track. It fades in, gentle and languid, offering an introduction that meticulously avoids a big splash, before introducing a beat.
LAVAHI vocalizes to that point, gently demonstrating the dynamics and control she has in her voice. The warm and mellow backdrop is perfect for her tone, painting images of a high-class club and black-tie fashion. It's a stunning start.
This is not a debut track that sounds like a first track; it is a track that sounds like it came from an artist who has been doing this for years. This a debut in the sense of an official introduction, a declaration, a five minute compendium of LAVAHI's artistry up to this point, and a tantalizing taste of what's to come.
"Forever" could turn out to be LAVAHI's calling card, a mid-tempo track with a strong groove, exuding an authenticity that has been lacking from the radio for a while now. The track has a simple freshness that is at the core of what makes this artist such an exciting and utterly engaging prospect. Musically, "Forever" will drip feed us just enough to keep us satiated, while LAVAHI, brimming with ideas and promise, hones her first album.
OFFICIAL LINKS: WEBSITE – FACEBOOK – TWITTER – INSTAGRAM – SPOTIFY – SOUNDCLOUD