"Electric (Rave) and Rodeo were massive hits for us early in our career. We wanted to give them new life so we created these new versions that are modern inspired and remade. We hope our fans appreciate them!" – Ghost in the Machine

(ORLANDO, FLORIDA, U.S.A.) – The artists C4 and Face make up the eclectic duo Ghost in the Machine. Known for weaving polished deeply lyrical crafted songs with thundering grooves, heavy guitars and lush electronics – they have gone back to their roots with the release of Electric Rodeo. This latest single shows the band hasn't forgotten where they came from.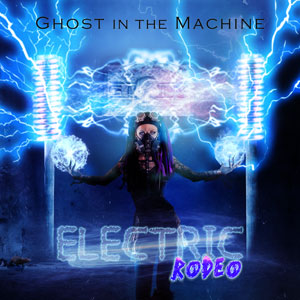 Electric (Rave) and Rodeo were both were fan favorites and extremely successful songs for Ghost in the Machine in their early years. Feeling the time was right and having new visions for them, Ghost in the Machine remanufactured them into modern inspired electro industrial anthems that retain the spitting angst and electricity of the originals. Electric (Rage) is a re-working of the band's 1999 hit Electric (Rave). Rage is heavy and maniacal but still moves your body by force. Rodeo (Striptease) is a re-imagining of the band's 2002 hit Rodeo. Striptease is down-tempo electronica with raw rock elements and seductive vocals by Caela crooning the finer things in the performance of a dancer.
Ghost in the Machine's songs from previously released ground-breaking albums have weaved their way into 21st Century world culture, heard on TV shows on almost every major cable channel, in feature movies and indie films, on commercials, and in video games, mobile apps, and other modern media. A few standout mentions – network TV shows including "Mistresses (ABC)", "Madam Secretary (CBS)", "Arrow (CW)", "Miss USA (NBC)", and "Raising Hope (FOX)", and feature movies and indie films such as "The Marine 4: Moving Target", "H2O Extreme", "Frakenhood", "Ace of Hearts", and "Shred". In addition, major corporations, from Gymkhana to Optima Batteries to Red Bull to Monster Energy have licensed GITM songs for commercial use.
In a time where the world has seemingly turned upside down with a pandemic and social and political insanity, their music has a message, "When life is hard and dark, it can still be transcended through the Ghost in the Machine." C4 and Face are master musical craftsmen. They are sonic weavers. Ghost in the Machine's guitars are not just instruments, but tools to entwine and shape their mix of meaning and muse into a resounding web that draws you into your sound system speakers.
OFFICIAL LINKS:
https://gitm.net/
https://www.youtube.com/c/GITMOfficial/videos?sub_confirmation=1
https://instagram.com/GITMOfficial
http://facebook.com/GITM.net
http://twitter.com/GITM