LJ Fresh is a smooth rap flowing artist out of Fort Wayne Indiana. He started rapping back in the 90s where he opened up for Major rap artist such as: Too Short, Mc Eght, N too Deep and the late Mc Breed. He took a break from music because of the nonsense that was going on in the messages of rap music.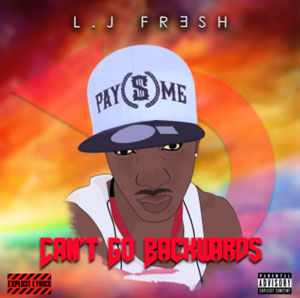 After taking a break, he realized what the rap game was missing so he got his focus together and he's been tapping in on a new market of Rap as far as he is concerned. LJ Fresh keeps his rap songs positive promoting to the youth motivation and articulation of a better you.
The first track that he is shopping is called "Can't Go Backwards". In the song he stresses the importance of not giving up and pursuing your dreams. He reference his mom to this track as a survivor of cancer, and she is not giving up or complaining. The second track he is shopping is called "Dream". In this track he is inspiring people to do their own thing and mind their own business and remember that they're special.
LJ Fresh is a member of BMI, who currently promotes and markets his music by himself. The title of his latest single is "Truth No Water". He's been promoting his demo clicks on Instagram and has been getting lots of views and likes. After a month of promoting on Instagram he realized how many people out there wanted to purchase to his music.
LJ Fresh is an inspired recording artist who feels he has a purpose on earth and has something people want and should want to hear. After coming up in a home shared by both parents struggling with raising 5 kids back in the 70's. He grew up having to be without a lot of things that he so dearly wanted.
He stumbled into the street at an early age in order to buy the things he wanted. Till one day he had an eternal choice he had to make within himself. Either he was going live the street life style and end up dead or in jail. The second choice was to get out of that life right and declare that the street life wasn't his destiny.
LJ Fresh enrolled in college and graduated from Ivy Tech Community College in 2016 with an Associate Degree in Business Administration. He is now fully employed by a major Cable and Phone provider in his home state of Indiana.
He is a Communication Technician working 40 hours a week in his real life. Upon completing college is when he decided to seriously get into his music again and try and reach as many fans as possible. Currently LJ Fresh is on radio rotation with the tracks "Can't Go Backwards" and "Dream".
FOLLOW LJ FRESH