Award winning singer-songwriter, and multi-genre recording, Samie Bisaso, whose Gospel-based music blends contemporary styling of RnB, Soul, Pop crossover, returns with a brand new album entitled "This Is Why". This is a follow-up to his previously critically acclaimed body of work "Million Pieces " which won album of the year in the Christian and Gospel genres. The new album is set to officially release on November 10th 2017 and is already available for Pre-order on iTunes and Amazon. The smash singles "Your Love" and "The Goodness" will all be included in the project. Samie has also dropped a video for "Your Love".
"This Is Why", is a 14 track body of work, a myriad of musical styles and sounds. Bisaso has the ability to bring home the intimacy that is at the very heart of the Gospel message —the reality that the very Creator of the universe has opened the door for us to personally abide with him, through the work of Jesus Christ on the cross. With the resonance of his warm voice, his ability to reach un-strained sky-high registers and a richness of color that has few parallels in the independent Gospel scene.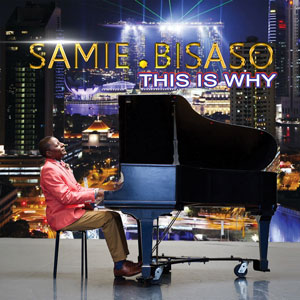 Samie himself explains the reason behind his passion: "In a society of bold secular…which is turning away from the things of God, I wish to bring to the music arena material that is not only clean, uplifting and catchy, but songs that make people think about the realities of life, love and most importantly, Jesus Christ. Each song is written to inspire. I hope you enjoy my music and take the lyrics to heart. They are written from the core of my soul. And I pray that through my songwriting I bring some extra happiness and thought to your days."
A prime example is a song such as the opener "Because Of You", an introspective look at his day to day journey and an outward expression of how that pales in comparison to our God, who meets all needs. The keyboards and the string machine set this one off on a nice up-tempo club-type beat.
Then there's afro-flavored "The Goodness", which is a marvel of melody-making. Samie Bisaso works wonderfully with his backing vocalists, trading lines throughout the piece, and ensuring that this one sticks with you for a very long time.
On "Your Love", another triumphant melody sets the stage for this mid-tempo prayer. A lightly-grooved song with beds of keyboard sounds, full harmonies and ample bass makes for one of Bisaso's best songs ever. Samie is in his element on the sax-infused ballad and title track "This Is Why", a song that is bound to become a fan favorite, in no small part due to the contribution of the organic instrumentation that makes it so classic sounding.
The praise is tender on "Only Jesus", a composition from Samie Bisaso that reaches out and pulls you in before you know what's happened, with vertically-oriented lyrics and a simple, accessible song structure that has you singing along before the song is even half over, as if you knew it all along.
Moving on through the album Samie Bisaso remains unwavering to the purpose in his ministry, and the reason for his praise, to call others into the life-changing experience of walking intimately with Jesus Christ.  He does so triumphantly exploring his own personal experiences on "Need You Now", "It's You" and "More Of You".
These songs takes the listener on a spiritual journey which leads to total dependency on God. Listening to Samie Bisaso is an adventure. Some songs have a leg out of the boundaries already explored by gospel music like "More Than Enough" and "God Is My Life Remix", and some have both legs in, like the stunning slow burner "Be Still" and "Answered Prayer".
This is great work any lover of classical gospel would love and those who embrace the contemporary urban music scene will simply adore too. Samie Bisaso is truly providing a needed ministry to those seeking their spiritual best.

OFFICIAL LINKS: WEBSITE – FACEBOOK – INSTAGRAM – REVERBNATION – YOUTUBE – ITUNES