This very personal and sublime piece courtesy from Steady Tek-Nick, sees him acknowledging the struggles his mom underwent raising him as well as his state of mind through all these ordeals.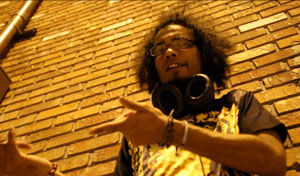 It's pretty reminiscent of Tupac's Dear Mama and correlates the same strong sense of love for the woman that introduced them both to the world. In the wake of Afeni Shakur's unexpected death, and to celebrate mothers everywhere, listen and share "Dear Momma"!
Nick Antony Israel, also known as Steady Tek-Nick (alias Ti Granmoun Lan) is a young Haitian Hip-Hop prodigy who developed an interest for writing raps and audio engineering at an early age. In a country where any musical career choice is considered taboo, he wasted no time in applying his newly found skills to create songs and express his rebellious thoughts.
His keen ear for sound and extensive knowledge of audio equipment is steadily establishing him among the best in his field. For more on Steady Tek-Nick, check out his website and other related social media.
OFFICIAL LINKS: WEBSITE – FACEBOOK – TWITTER – INSTAGRAM – YOUTUBE – ITUNES