Strangers Of Necessity drop off a new single as they prepare for the release of their third project.
Strangers Of Necessity consist of upcoming producer, CoryaYo from Iowa City, IA., and veteran rhyme sayer, Fooch the MC from Chicago, IL. They linked up and quickly became friends, sparking an immediate chemistry and need to make quality music together; hence the name Strangers Of Necessity. They instantly began recording music and doing shows locally, generating a nice buzz in the area.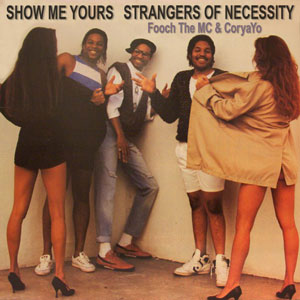 Fooch is a seasoned lyricist and has featured on tracks with the likes of GLC, Naledge, Black Milk and Vic Spencer. CoryaYo is a blossoming and versatile producer and has placements with artists like Audio Push, Chester Watson and HighLife. Their sound is best described as a fresh take on that golden era of hip-hop, blending tasteful jazz and soul samples, crisp snares, boomy kicks on wonky patterns with a soulful delivery, dense schemes and potent punch-lines that hit peaks before unseen.
Strangers Of Necessity now better acquainted and constantly adding shows to their calendar, are hoping to bring you retro fresh beats and rhymes that speak to right now; giving you that feeling that can only be described as "goose bump music." Two people, two different worlds, one common goal… make good music. The return of the rapper/producer duo is here! Their new LP, "The Layover", is out now on Radio Juicy records.
Strangers Of Necessity is on radio rotation with the track – "Show Me Yours".
OFFICIAL LINKS:
www.twitter.com/FoochttheMC
www.twitter.com/coryayobeats
www.twitter.com/sonisdope
https://www.facebook.com/strangersofnecessity
https://soundcloud.com/strangers-of-necessity
https://radiojuicy.com/album/the-layover